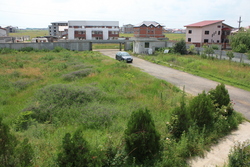 By making a move now on a solid property proposition you will attain a significant ROI on a market that has a strong demand for households and light industrial facilities.
(PRWEB) June 9, 2010
The official statistics in Romania state that over one million households are needed in Bucharest and in the city's outskirts to cover the existing demand.
Phoenix Trading Ltd. offers a relevant area of land along with an already established infrastructure which includes a comprehensive set of services and utilities that build up a compelling proposition for anyone who intends to expand his portfolio with high potential assets that have a flexible development and/or selling prospects in the short to mid term.
No matter whether you are a leading real estate player in the residential segment or an expanding company in the industrial/ transport and logistics area, you can now take advantage of a great opportunity to acquire an already furnished establishment with the relevant infrastructure that suits most types of businesses or households.
Some of the utilities that the overall site has are mentioned hereinafter as follows:

Privately owned high power (3-phases) electric post to keep in service any high consumers such as industrial machinery
Already furnished and easy-to-use office building along with a production facility (plant) with internet, heating/cooling systems, thermal insulation, water, gas, telephone, private guard keeping etc;
The land is plotted in a flexible manner so that an investor could use it either for developing a residential project or a business in the logistics & transport/ industrial area:
One plot of 5,000 square meters that includes the office building, the plant and other industrial utilities;
Eight plots of 510 up to 525 square meters each make the other 5000 square meters. Each of these plots has its own private road facility that augments the aforementioned plot areas.
As it can be seen from the attached pictures, the area is booming with new residential and SME developments, which clearly suggest a significant growth potential along with a quick and promising, return on investment. The price for the whole property is 1,199,000 USD (19% VAT included) which makes it a highly competitive offer for the Bucharest area and the eastern part of the EU.
###