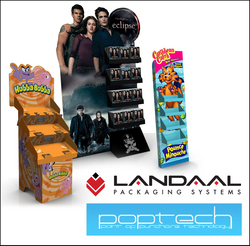 This new display technology will help our customers sell more product in the retail environment. Period. - Terry Choate, Landaal Packaging Systems
Burton, MI (PRWEB) February 1, 2011
Landaal Packaging Systems has entered into a strategic international partnership to represent and manufacture Poptech's patented corrugated merchandising products for in-store retail displays.
"This partnership is an outstanding opportunity to diversify our product offerings and expand our customer base," says Terry Choate, Sales and Operations Planning Manager, "there is a great need in the marketplace that we can meet with a truly unique product line."
"Through this partnership, Landaal is leveraging Poptech's significant investment in design and patents that have created merchandise displays that literally self-assemble in seconds," says Choate. Point of Purchase displays are a very effective and inexpensive marketing tool to increase sell-through percentages in the retail environment.
"We can assemble up to seven displays correctly faster than one traditional display," says David Minister, CEO of Poptech, "it's the unseen technology that makes the structural design superior for both ease of assembly and durability in the retail environment."
"We've invested heavily in designing and patenting displays that literally self-assemble in seconds," says Minister.
Poptech's know-how has made this tool even more effective and profitable for retailers. These displays are both an effective and inexpensive asset in retail to grab the consumers' attention. Customers have seen an increase in sell-through percentages up to 28% vs. conventional display systems since utilizing Poptech's technology.
Consumers are attracted to the magazine-quality printing used to show off professional graphic designs and high definition images showcased on the displays. Product manufacturers see them as their in-store marketing department.
Blaine Schwingenschlegel, Manager of Business Development of Sony BMG Music Canada says, "Poptech's corrugate designs are durable, customizable and simple to setup. The 'pop-up' design helps ensure that retail staffers choose to setup our promotion because they know it will be easy."
The Poptech displays can be shipped alone or with product for efficient tracking through any retail distribution system.
Poptech products are fabricated from an environmentally responsible material — corrugated — the single most-recycled packaging material in the United States. According to a 2010 Life Cycle Assessment by the Corrugated Packaging Alliance (CPA), some 81.2% of corrugated is being recycled into new products.
To see a video of displays and more about Landaal Point of Purchase technology, go to http://www.landaal.com/pop/.

Landaal Packaging Systems
Since 1959, Landaal Packaging Systems has helped customers solve their packaging challenges with innovative ideas, uncompromising product quality and on-time delivery. They offer a host of value added services designed to make their clients' jobs easier and more cost-effective.
Landaal is a leader in green packaging, sustainable packaging, biodegradable and eco-friendly shipping materials and other progressive packaging products and solutions.
As a community-minded and family-owned business, Landaal Packaging Systems stands commited to its tradition of consistent, reliable, and forward-thinking customer service.
For more information about Landaal Packaging, contact Terry Choate, Sales and Operations Planning Manager, Landaal Packaging Systems - 810-223-0605
Landaal Packaging Systems
Flint Packaging Division, 3256 B Iron St.,
Burton, MI 48529
http://www.landaal.com
info(at)landaal(dot)com
800-656-6652
Poptech is the creator of merchandising display innovation that it has resulted in the creation of 12 patented and patent pending designs. Because of that, Poptech has become the home of the most innovative displays in retail today!
Poptech's multiple patented displays are proven to increase assembly rate compliance in store which in turn increases product sell through and R.O.I. on merchandising monies spent.
For more information about Poptech, Ltd., contact David Minister, CEO, Poptech Ltd - 416-636-6010 x235.
Poptech, Ltd.
82 St. Regis Cres. North,
North York Ontario,
Canada, M3J 1Z3
416-636-6010
info(at)poptech(dot)ca
# # #