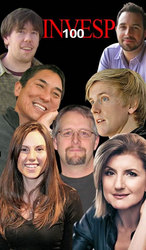 There are thousands of marketers who produce content every day and deliver results for their clients. In creating the list, we were looking for the thought leaders, innovators, and those who changed and influenced the marketing space during 2008
Farmington, MI (PRWEB) December 18, 2008
Invesp Consulting, a landing page optimization company, has named the top 100 most influential online marketers of 2008. The list includes the greatest marketing minds, visionaries, and thought-leaders in the industry. After over 1,000 recommendations and nominations, Invesp picked 100 of the top online marketers. They are people who provided the most insightful, cutting edge marketing ideas, products, and/or services in 2008.
These are the leaders people go to and respect for their online marketing expertise. "There are thousands of marketers who produce content every day and deliver results for their clients. In creating the list, we were looking for the thought leaders, innovators, and those who changed and influenced the marketing space during 2008," said Ayat Shukairy, co-founder and managing partner at Invesp consulting.
Many on the list are well-known, some may not be as famous, but all were named because of their continued efforts to expand as well as give back to the online marketing community.
Here are the Top 10 Online Marketers of 2008
1. Chris Hughes
2. Guy Kawasaki
3. Brian Clark
4. Michael Arrington
5. Rand Fishkin
6. Pete Cashmore
7. Aaron Wall
8. Jackie Huba
9. Darren Rowse
10. Avinash Kaushik
Chris Hughes who is praised for his work in helping elect Barak Obama has topped the list. "Chris took his intimate knowledge of social media to create My.BarackObama.com; The Obama campaign's online social networking website. His transformation of Barak Obama form a mere candidate to an online phenomenon contributed to the Presiden Elect's nomination and admiration of tens of millions across the world," adds Ayat Shukairy.
Rand Fishkin of SEOMoz, one of this year's top 10 marketers, praised and nominated Google's Avinash Kaushik. He said: "Avinash has made marketers across the web more responsible and more informed when it comes to measuring their successes and failures. Through his book, blog and evangelizing, he reaches tens of thousands of companies and websites that can take truly actionable intelligence from his advice."
The top woman marketer of 2008 is Jackie Huba of Church of the Customer. Jackie's effort in evangelizing citizen marketing as well co-founding The society for Word of Mouth earned her the title top woman marketer of 2008. To get the full list see http://www.invesp.com/2008/top-100-marketers-of-2008.html
About Invesp Consulting:
Since 1995, the founders and team at Invesp Consulting have architected, designed and deployed 22 of the largest e-commerce websites in North America. The company drives sales to e-commerce sites through the practice of conversion rate optimization. In 2007, Invesp's clients averaged 14.56% conversion rate.
To see how Invesp can help your site with conversion rate optimization, see http://www.invesp.com .
###