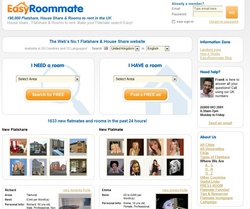 EasyRoommate will initially be running Maxymiser's A/B testing solution across its payment and posting web pages [...] before implementing full multivariate testing and landing page optimization
(PRWEB) May 7, 2010
EasyRoommate, the UK Flatshare, House Share & Rooms to rent website, has signed a contract with conversion management expert, Maxymiser, to increase online conversions and grow its membership base. EasyRoommate will initially be running Maxymiser's A/B testing solution across its payment and posting web pages with the aim of increasing conversion rates, before implementing full multivariate testing and landing page optimization across its website later in the year.
EasyRoommate currently serves 20 countries including Australia, Belgium, Canada, France, Germany, Italy, Mexico, New Zealand, Spain, the UK and the US. Members of the site can place a room or roommate advertisement across the network for visitors to view and respond to. Subscribing to the site and becoming a Premium Member gives users full access to all member profiles and contact details on the site, as well as earlier access to adverts. Working with Maxymiser, EasyRoommate will be able to boost subscriptions by trialling different web page lay-outs, designs and landing page content in order to determine which combinations have the most positive impact in driving sales.
As Karim Goudiaby, Managing Director at EasyRoommate explains, "We analysed our business performance and identified online conversions as a key area where we could improve. Using Maxymiser's software and consultancy services we will now be able to proactively manage conversions as we will have clear statistical evidence about which page layouts and content works best in converting more visitors. We will be working closely alongside Maxymiser's account management team to implement an ongoing conversion management programme that is based around structure and science rather than gut instinct."
Karim Goudiaby continues, "We considered three providers - Google Optimiser, Conversion Rate Experts and Maxymiser. We choose Maxymiser as they are the market leader in conversion management and they provided the technology platform, the domain expertise and the account management that we desired. Maxymiser will help us to drive our business forward and to be more forward-thinking and innovative than we have been before. Previously we may have discarded an idea which we thought was irrelevant but there will no longer be any pre-conceived notions about what content works and what doesn't as our web strategy will be based around scientific evidence."
Mark Simpson, MD and Founder of Maxymiser comments, "Live testing and iterative tweaking is the key to high conversion rates and businesses are now beginning to wake up to the appalling leakage that is taking place as visitors move through their web pages. Given the scale of investment made in web design and redesign, and in driving traffic to sites, the logical next priority is to maximise the experience of those hard-won visitors so that they proceed to the checkout and complete the purchase. It is always encouraging to see online businesses such as EasyRoommate taking advantage of conversion management and landing page optimization as it will not only improve their customers' online experience but it will also add to their bottom line."
About Maxymiser
Maxymiser is the leading global provider of Conversion Management solutions including multivariate testing, landing page optimization and website personalization. With offices in New York, London, Edinburgh and Dusseldorf and a global network of partners, its solutions help brands like ASDA, Santander, and Virgin to analyze, optimize and deliver better performing content across digital channels. By working with Maxymiser, marketers make smarter decisions and deliver more engaging customer experiences. Maxymiser is a rapidly expanding, independent company headquartered Edinburgh and backed by leading Venture Capital investors.
###