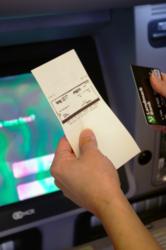 "Advanced-function ATMs help the bank fulfill customers' needs for high-tech and high touch service," says Randy Hensarling, Landmark Bank Texas state president.
Sherman, TX (PRWEB) June 26, 2012
Landmark Bank recently completed the installation of full-service ATMs at 22 locations in Oklahoma and Texas to develop the most advanced network of automated banking services available in the area.
The new ATMs feature state-of-the-art technology to enable customers to deposit cash and checks, without an envelope or deposit slip, securely. When a deposit is made at a Landmark Bank ATM, customers receive scanned images on their receipts to show exactly what checks and cash were deposited into the machine.
In addition to the secure deposit feature, Landmark customers can check balances, transfer funds and withdraw cash at any Landmark ATM. The full-service ATMs fill customers' needs for convenient service, smooth ATM transactions and after-hours banking.
"Landmark Bank is dedicated to being both high-tech and high-touch," says Randy Hensarling, Texas state president. "Customers need quick, convenient and safe access to their bank accounts, day or night, and our network of full-service ATMs makes their transactions simpler, quicker, easier."
The new advanced-function ATMs are part of Landmark's overall commitment to improving superior customer service through the bank's suite of convenience services, including Internet banking, online bill pay, online loan application and mobile banking, all available 24 hours a day, seven days a week, 365 days a year.
# # #
Landmark Bank is a community bank with $1.6 billion in assets and 40 locations in 27 communities across Missouri, Oklahoma and Texas. For more information and directions, visit http://www.landmarkbank.com or call (800) 618-5503.