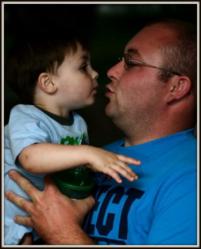 I loved my brother more than the world. I thank any of you who even take the time to read any of this.
Pittsburgh, Pennsylvania (PRWEB) July 24, 2012
Landon Christopher Stanley O'Hara turns two today! Why is this news? Because he lost his Daddy one month ago in a violent accident. The 1994 Ford Ranger being driven by Ryan O'Hara, 19, of Beaver Falls, lost control and struck a pole.
The passenger, Sean O'Hara, 22, of Beaver Falls, was ejected and died as a result of the injuries sustained. He was a plumbing technician for Mr. Rooter Plumbing in Pittsburgh.
Ryan O'Hara suffered major injuries and was flown to UPMC Presbyterian Hospital. The brother sustained some rather bad facial and skull fractures but is home.
"I loved my brother more than the world. I thank any of you who even take the time to read any of this. As a father of two boys, 2 year and 3 months old, respectively. I am heartbroken knowing my nephew will grow up knowing little of his father aside from the stories me and my family will tell him," wrote Kevin O'Hara at a popular forum online.
"Two years ago today I was laying on the couch at this time when I thought I just had to [go to the bathroom]. Well when I sat up I realized my water broke so I called Sean and told him. He was so excited it was almost time for our little boy to finally be here and we could be a family!♥
Sean I truly thank you for giving me an amazing little boy that I would be lost without. He's all we have left of you. I love you babe. I know your watching over us and protecting us with every move we make. Landon and I miss and love you. Tomorrow will be a month that you've been gone and its crazy how fast it went but I still think I am living in a nightmare. Also tomorrow is our lil' man's birthday so we will come see you♥ We love you Sean forever and always. May you Rest In Peace babe. I'll meet you at the gates of heaven when its my time. I can't wait to have one of the best hugs from you♥" (Taken from Katie Stanley's Facebook page: Landon's mother)
Mr. Rooter Plumbing is asking you to help us help Landon! You can do this by following the link to the online donation site here. Landon O'Hara Fund
An account has been opened in Landon's name at the First National Bank , 20100 Rt. 19, Cranberry Township, PA 16066. Mr. Rooter employees and Landon's family are still reeling from the shock of this horrible accident that has changed many lives forever.
Won't you find it in your heart to help this little boy?
Thank you all for your continued support! Help us celebrate Landon's birthday with God's blessing and your generosity! Let's make this the biggest contribution day yet!
There's A Reason They Call Us Mr.™
Help Mr. Rooter Help Landon
Landon O'Hara Campaign
Mr. Rooter Plumber, 22, Fatal Accident: Leaves Behind Son Turning Two July 24, 2012
Debra Santavicca PR, SMM, WebIT
Mr. Rooter Media Center
724-553-9510
http://www.mrrootermedia.com