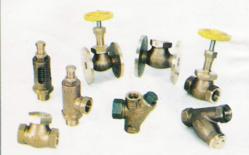 A pipe wrench or an adjustable wrench will not work to remove the stem because the flats are tapered.
Youngstown, Ohio (PRWEB) June 28, 2012
Bob Beall, Mr Rooter Plumbing Youngstown, says, "things like a boiler drain are hard to tear apart." Beall, president of the Pittsburgh and Youngstown area Mr Rooter Plumbing states that the handle and packing nut will come away easily, but removing the stem from the body takes considerable muscle." The most referred plumber in the Southwestern and Northeastern Ohio region, provides services to 2.9 million plumbing customers, Mr Rooter is the largest plumbing franchise in the world.
"Remove the drain from the boiler and clamp it in a heavy-duty vise that is securely bolted down. To further complicate repairs, says Beall, "a pipe wrench or an adjustable wrench will not work to remove the stem because the flats are tapered." He adds that only a deep well socket and long breaker bar will get the stem off. "Replacing a boiler drain is much easier than repairing one. But if none is available, says Beall, "fix what you have!"
Mr. Rooter's Tip Of The Day
Tip #1 Start by draining the water from the unit using a garden hose. Then disconnect the hose and remove the drain spigot from the boiler. Lock the drain in a vise. Remove the handle nut and handle.
Tip #2 Unscrew the packing nut.
Tip #3 Inside the nut is the packing washer or stem seal. Replace this washer if the faucet leaks around the handle stem.
Tip #4 Now to the hard part. Use a deep-well socket of the exact size to loosen the stem body. Some stem nuts are standard, others are metric. Make sure to use the right socket by slipping on several sizes, selecting the one with the tightest fit. Attach a breaker bar to the ratchet and apply as much counterclockwise torque as you can. It will take a lot of muscle but the stem will come loose.
Tip #5 Pull it free and check the seal for cuts and abrasion.
Tip #6 Remove the seal-holding screw. Reassemble the unit, replace it on the boiler, and refill the boiler, following the manufacturer's instructions for any required bleeding of the system.
There's A Reason They Call Us Mr.™
Sean C.O'Hara Arrangements
Landon O'Hara Fund
Debra Santavicca PR, SMM, WebIT
Mr. Rooter Media Center
724-553-9510
http://www.mrrootermedia.com