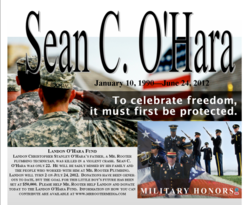 The family is suffering tremendously because of this young man's tragic death. Mr Rooter Plumbing thanks you for your continued support for this little boy.
Ellwood City, Pennsylvania (PRWEB) July 04, 2012
Sean C. O'Hara, 22, of South Beaver Twp. died Sunday, June 24, 2012.
Born January 10, 1990 in Ellwood City, PA, he was a 2008 graduate of Blackhawk High School, was employed by Mr. Rooter and was currently attending AMPAC to be a plumber. He was a member of St. Rose of Lima R.C. Church, and the Blackhawk FFA. Sean loved hunting and fishing and enjoyed golf, camping and all sports. He was a Private First Class in the National Guard and a member of the Alpha Company 1st Battalion 112th Infantry.
Surviving are his son Landon Christopher Stanley O'Hara and Landon's mother Katie Lynn Stanley, Enon Valley; parents Dianne (Kaercher) Yurkiw and step-father Jeffrey, South Beaver Twp., father Jon Ryan O'Hara and step-mother Sherry, Rodgers, OH; a brother, Ryan David O'Hara, South Beaver Twp.; step brothers, Kevin Yurkiw and his wife Ashton, Ellwood City, Michael Weber, Buffalo, NY, Christopher Weber, Pittsburgh, PA; step-sisters: Karen Yurkiw, Fombell, Alianna Tomeo, New Brighton; maternal grandfather, Donald "Kit" Kaercher, South Beaver Twp.; maternal aunts, Katherine "Kat" Engle and her husband Paul, South Beaver Twp.; maternal uncle, Krasimir "Krash" Kaercher, South Beaver Twp.; paternal aunts, Coleen O'Hara, New Brighton and Sally O'Hara , Beaver Falls; cousins: Lance Michael Funkhouser and Astian Benjamin Stewart; his God-father Scott Ensworth Beaver Falls; and numerous aunts, uncles and cousins and friends.
He was preceded in death by his maternal grandmother, Mary Winegardner Kaercher; paternal grandparents, Susan Ensworth O'Hara Riecker and Jack O'Hara; and maternal uncle, Christopher D.W. Kaercher
Friends and family were received on Friday from 2-4 PM and 7-9 PM in the Campbell's Chippewa Funeral Home,http://www.campbellfuneralhome.com, 2618 Darlington Road where prayers were recited on Saturday at 11:20 AM followed by a Mass of Christian Burial at 12 Noon in St. Rose of Lima R.C. Church Darlington celebrated by Reverend Father Kim Schreck and his battalion Chaplain Father Richard Allen.
Interment followed in Beaver Falls Cemetery, Chippewa Twp. with Reverend Lee Bittner officiating.
Full military honors were presented by the Alpha Company 1st Battalion 112th Infantry.
In Lieu of flowers, memorial contributions may be made to the Landon O'Hara Fund, First National Bank, 20100 Rt. 19, Cranberry Township, PA 16066. PayPal (Donate Button Below) has also been set up to receive contributions and of course, you may visit the Landon O'Hara Fund website. Please sign up for Mr. Rooter's Daily Tips and we will automatically enroll you in Mr. Rooter Valued Customer Protection Plan for 5-years. Just enter your email address at the top right corner of mrrootermedia.com. Mr. Rooter Plumbing will validate your email address and then send you details about this $199.95 protection plan beginning on August 1, 2012.
Thank you for your support.
There's A Reason They Call Us Mr.™
Landon O'Hara Campaign
Mr. Rooter Plumber, 22, Fatal Accident: Leaves Behind Son Turning Two July 24, 2012
Debra Santavicca PR, SMM, WebIT
Mr. Rooter Media Center
724-553-9510
http://www.mrrootermedia.com