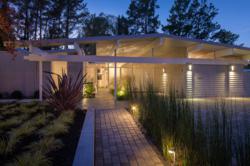 His work updates the home in a very modern way
San Francisco, CA (PRWEB) May 03, 2013
Developer and designer John Baker, in collaboration with landscape architect Chris Jacobson of GardenArt Group, a Bay Area landscape management firm, has reimagined an iconic remodel of a Joseph Eichler-built home in the Highlands area of San Mateo, California.
This remodel was photographed by David Eichler, an architectural, interior and real estate marketing photographer, who is also the grandson of Joseph Eichler, the legendary real estate developer known for the midcentury modern style architecture of his developments. Eichler now comes full circle in his career, photographing his grandfather's work a half-century later. These photographs are the result of that very special event.
Chris Jacobson has said of David's photography, "When I saw David's photos, I knew for sure we had something special here. David is not just a documentarian—he knows how to make a project come to life on paper."
Eichler was also pleased with the remodel, saying "Chris' work was quite consistent with the original design style of the home—modern and contemporary—and fits very well with the midcentury modern design. His work updates the home in a very modern way."
Unbeknownst to many Bay Area homebuyers, Eichler tract homes are scattered throughout the greater Bay Area, waiting for young, design-savvy new families to discover this treasure trove of mid-century modernism. The remodeled home in the Highlands is one of many original Eichler homes in a little known community just a stone's throw from Highway 280 in San Mateo County, a short 20-minute commute from San Francisco.
Though not a designer or architect—a common misconception—Joseph Eichler was a major force in the popularization of modern architecture for the masses. Eichler's interest in this type of architecture was sparked after he rented and lived in a Frank Lloyd Wright home in Hillsborough called the Bazzett House. This was the first time Eichler had lived in a modern home with architectural significance, giving him a deep appreciation for modern architecture and modern design and inspiring him to create housing plans and collaborate with architect and design firms.
Under his guidance, his various architects, designers and builders created Eichler tract homes in California, with many in the greater San Francisco Bay Area and Southern California. Eichler homes can also be found in Sacramento and New York State.
Today, many of these homes are ready to be remodeled. At the same time, more interest and attention has been generated over the original design of these houses, requiring a careful preservation of style. Monique Lombardelli, the realtor who listed the restored home, has also recently started a new company called Eichler Homes—the same name as the original firm—to substantially renovate and rehabilitate existing Eichler homes in a manner consistent with the original designs.
Thanks to the restoration, the history of this Eichler home has been preserved, renewed interest has been sparked, and the grandson of the original developer can come full circle in his work by photographing his grandfather's influential homes.
About Chris Jacobson and the GardenArt Group
Chris Jacobson began creating Bay Area landscape designs in the early 1970s while pursuing a career in the fine arts. He eventually fused the two pursuits into one concept, GardenArt. A fourth-generation California horticulturist, Chris has been one of the proponents of the New California Garden, an emerging movement that combines environmentalism, multi-culturalism and art.
Jacobson is a member of the Northern California chapter of the International Mediterranean Garden Society advisory board. The Society provides a means for gardeners of these unique climates to exchange information concerning their specific gardening needs, the most pressing being water conservation.
Jacobson's work has been featured in Sunset, Country Homes and Gardens, Architectural Digest, Northern California Home and Garden and Peg Streep's Zen gardener's guidebook "Spiritual Gardening." He has also penned his own horticulture care and design handbook, "A Different Shade of Green: Manual for The New California Garden."
For more information about the GardenArt Group and Bay Area landscaping installation projects, call (415)-722-0615 or go to http://www.gardenartgroup.com.