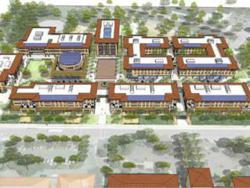 I am very excited that we are contributing to the unique and beautiful landscape at the Knight Management Center
Sunol, CA (Vocus/PRWEB) March 23, 2011
Stanford University has selected Western Star Nursery for contract growing many of the plants that will be used to landscape their beautiful new Knight Management Center in Palo Alto. Western Star Wholesale Nursery is a premier Bay Area landscape supply company for discerning clients who want the best quality trees and shrubs for their custom landscapes.
The Knight Management Center is comprised of a series of small buildings situated around five vital outdoor spaces. Narrow, three-story buildings easily engage the outdoors at many levels. The outdoor spaces—the Town Square, Faculty Courtyard, Community Plaza, Amphitheater and the Academic Walk—provide numerous opportunities for teams and individuals to collaborate and work in the outdoor environment.
"I am very excited that we are contributing to the unique and beautiful landscape at the Knight Management Center," said Kristi Ghiglione, account executive at Western Star Nursery who is overseeing the contract. " It will be a facility that students, professors and the community will enjoy for many years to come. Being a part of this exciting project is truly a highlight in my career."
Of the several plants Western Star is growing for this project, two are California natives: Myrica Californica (Pacific wax myrtle) and Ceanothus Yankee Point (Carmel Mountain lilac). Though it is not a native, they are also supplying Iris Douglasiana (Douglas Iris) 'Pacific Coast hybrids' which, when blooming, will bring spectacular color to the landscape.
Pacific Wax Myrtle is a native Californian evergreen shrub or tree to 15 feet with shiny, fragrant-leaves. They transfer nitrogen and water and other nutrients to various other plants in the garden, which reduces the need for additional fertilizer and irrigation.
Carmel Mountain lilac is an evergreen shrub that commonly grows two or three feet tall and ten feet wide that becomes a mounding mass of glossy green with blue flowers in March through May. Douglas Iris is a knee-high perennial with rhizomes that spread slowly into a 2 to 4 feet wide clump. The 3-inch wide flowers arise on a 1 to 2 feet high stem, and are cream to purple and three inches wide. Douglas Iris is native from Santa Barbara to Oregon.
The Knight Management Center is located at the intersection of Serra Street and Campus Drive East, directly across the street from the GSB's Schwab Residential Center. Classes began meeting in the Knight Management Center for the first time in January 2011. By summer the eight buildings making up the new complex will be fully occupied, encompassing approximately 360,000 square feet with eight buildings around three landscaped quads.
Western Star also offers a large selection of landscape supplies, including many unusual varieties of trees and shrubs.
For more information about discounts on Camellias or any of Western Star Nursery's products or services, call them at (925) 233-0023 (East Bay) or (209) 744-2552 (South Sacramento), view them on the web at http://www.western-star-nursery-ba.com, or visit one of their locations in Sunol or Galt.
About Western Star Nursery
Western Star Nursery is a wholesale nursery in Sacramento and the Bay Area serving landscaping contractors, developers, and commercial nurseries. Founded in 1996 by Robert and Sally Painter, Western Star Nursery has earned a reputation for growing high-quality products and offering superior service. From the most commonly used ornamental varieties to unusual phormiums, they stock a large and diversified selection of 1 gallon through 36" box trees and shrubs on over 100 acres. They also offer an efficient brokerage service and contract growing. The Western Star staff, many of whom have been with the company since its start, bring with them many years of nursery and customer service experience. Western Star features will-call, delivery and shipping services.
Western Star Nursery has locations in Sunol and Galt, offering landscape design services in the Bay Area, Sacramento and throughout California.
# # #