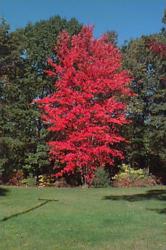 Spruce up the yard for Dad's special day. Hundreds of varieties of trees and shrubs are available now, many at significant savings
Sunol, CA (Vocus/PRWEB) June 04, 2011
For many dads, the yard is their pride and joy. It's where they want to spend the summer, barbecuing and lounging around with friends and family. So what better way to show Dad how much he means to the family than helping him perfect the yard? Western Star Wholesale Plant Nursery, located in Sacramento and the Bay Area community of Sunol, has trees, shrubs, perennials and roses that make yard beautification a breeze.
"Spruce up the yard for Dad's special day. Hundreds of varieties of trees and shrubs are available now, many at significant savings." says Western Star owner Sally Painter. "Beautify your yard now to enjoy it all summer long. Imagine how much your family will enjoy afternoon BBQs and backyard fun!" (
Western Star has a few suggestions for Bay area and Sacramento landscape design, including trees that will add shady spots and beauty to any yard. Acer rubrum 'Armstrong' is a narrow red maple that is ideal for tight spots. It is a great shade tree, and its vibrant red leaves in autumn make it stand out. Liquidambar rotundiloba is a sweet gum tree with rounded leaves. It is easy to care for, and unlike other sweet gums, it doesn't leave seed balls all over the ground.
Shrubs can be used to cover unsightly areas, direct the flow of the yard, and tie everything together. Western Star recommends Agapanthus africanus 'Peter Pan,' a Dwarf Lily of the Nile variety with showy blue flowers that is perfect for lining a walk or in a planter by a pool. Berberis thunbergii 'Rose Glow' is a Japanese Barberry shrub with brilliant red foliage. Its leaf structure makes it an ideal hedge or barrier, and its berries attract birds. The wholesale nursery in the Bay Area also has a selection of standard and dwarf Phormium (New Zealand flax) varieties, including 'Amazing Red,' 'Tom Thumb,' and 'Maori Queen.' This spiky-leaved plant adds a firework of spectacular foliage color to any yard.
Many people give bouquets of flowers for Father's Day; why not give garden flowers that will live on and on instead? Western Star loves salvias, which are easy to grow and beautiful to behold. They recommend Salvia microphylla 'Hot Lips,' a red and white flower mix, and Salvia greggii 'Red'; both are stunning all summer long. They also suggest planting Gaura lindheimeri 'Siskiyou Pink,' which has pink flowers shaped like butterflies.
To complete the look of the yard, Western Star says to plant some roses in Dad's honor. Rosa Bonica has small pink flowers with a delicate scent. Rosa meidiland 'Red' is an excellent ground cover rose with red flowers. Western Star also carries assorted rose trees.
For more information about Western Star Wholesale Nursery's suggestions for ways to help Dad beautify the yard ,or any of Western Star Nursery's products or services, call them at (925) 862-2411 (East Bay) or (209) 744-2552 (South Sacramento), view them on the web at http://www.western-star-nursery.com, or visit one of their locations in Sunol or Galt.
About Western Star Nursery
Western Star Nursery is a wholesale nursery in Sacramento and the Bay Area serving landscaping contractors, developers, and commercial nurseries. Founded in 1996 by Robert and Sally Painter, Western Star Nursery has earned a reputation for growing high-quality products and offering superior service. From the most commonly used ornamental varieties to unusual phormiums, they stock a large and diversified selection of 1 gallon through 36" box trees and shrubs on over 100 acres. They also offer an efficient brokerage service and contract growing. The Western Star staff, many of whom have been with the company since its start, bring with them many years of nursery and customer service experience. Western Star features will-call, delivery and shipping services.
Western Star Nursery has locations in Sunol and Galt, and provides landscape design services and landscape supply to the Bay Area, Sacramento, and northern California. They offer delivery service throughout California and Nevada.
# # #