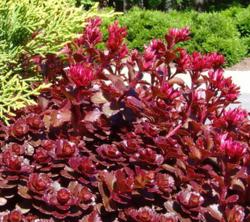 It's Fourth of July weekend, time to celebrate with a backyard party for friends and family
Sunol, CA (Vocus/PRWEB) July 02, 2011
The long holiday weekend is here, and in honor of the occasion, Western Star Wholesale Plant Nursery, located in Sacramento and the Bay Area community of Sunol, is featuring some new arrivals that make a beautiful way to celebrate the Independence Day: perennial plants in red, white and blue.
"It's Fourth of July weekend, time to celebrate with a backyard party for friends and family," says Western Star owner Sally Painter. "Why not spice up your outdoor events with some red, white and blue perennials?"
Sedum 'Dragon's Blood' is a hearty and easy-to-grow ground cover with brilliant red flowers that become more vibrant with more sunlight. 'Dragon's Blood' can tolerate extreme temperatures and poor soil quality, and looks great as a ground cover, between stepping stones, or in outdoor pots.
Chrysanthemum maximum 'Esther Read' is one of Western Star's favorite flowers. These white double Shasta daisies are a traditional border plant in British gardens, and they're one tradition Americans don't feel the need to rebel against. 'Esther Read' is a great addition to the garden because its flowers are perfect for cutting for a bouquet, and also attractive to butterflies.
Felicia amelloides is a South African bush featuring bright blue flowers with yellow centers. This blue daisy is ideal for Bay Area and Sacramento landscape design, as it does well in rocky soil with good drainage, and prefers sun. Depending on the gardening style, Felicia amelloides can take on a rangy, windswept dune look or a compact, bushy hedge look.
In addition to the red, white and blue flowers, the Sacramento and Bay Area wholesale nursery is featuring several other perennials that are perfect for summer planting. Asteriscus maritimus 'Gold Coin' is a hearty Mediterranean groundcover with lovely yellow flowers. Geranium x cantabrigiense 'Biokovo' is a hybrid featuring five-petaled pinkish-white flowers. Perovskia atriplicifolia 'Russian Sage' is a semi-woody plant with spires of small blue flowers and a pungent smell. The brachyscome hybrid 'New Amethyst' is a fragrant purple daisy with yellow centers that does especially well in containers. Lavandula angustifolia 'Hidcote,' also known as English Lavender, is an herb garden must-have used for essential oils and perfumes, cooking, and sachets.
For more information about Western Star Wholesale Nursery's red, white and blue perennials, or any of Western Star Nursery's products or services, call them at (925) 862-2411 (East Bay) or (209) 744-2552 (South Sacramento), view them on the web at http://www.western-star-nursery.com, or visit one of their locations in Sunol or Galt.
About Western Star Nursery
Western Star Nursery is a wholesale nursery in Sacramento and the Bay Area serving landscaping contractors, developers, and commercial nurseries. Founded in 1996 by Robert and Sally Painter, Western Star Nursery has earned a reputation for growing high-quality products and offering superior service. From the most commonly used ornamental varieties to unusual phormiums, they stock a large and diversified selection of 1 gallon through 36" box trees and shrubs on over 100 acres. They also offer an efficient brokerage service and contract growing. The Western Star staff, many of whom have been with the company since its start, bring with them many years of nursery and customer service experience. Western Star features will-call, delivery and shipping services.
Western Star Nursery has locations in Sunol and Galt, and provides landscape design services and landscape supply to the Bay Area, Sacramento, and northern California. They offer delivery service throughout California and Nevada.
###