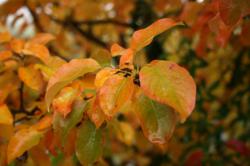 Planting trees in my yard during the fall gives my property an immediate pop of color from the leaves beautiful autumn oranges, reds, and yellows
Sunfol, CA (PRWEB) October 05, 2011
The leaves are turning golden and Halloween decorations are popping up everywhere. This can only mean one thing: autumn is officially upon us. Western Star Nursery, a Sacramento and Bay Area wholesale nursery, says this season is the best time to plant trees. Planting a tree during the milder weather now allows the plant to establish itself before the harsh winter weather ahead. Planting trees now will give the plant the highest ability to thrive through the winter months and avoid the chances of transplant shock. Western Star offers tips on tree planting techniques and suggests deciduous trees that show off their true colors this time of year.
"Planting trees in my yard during the fall gives my property an immediate pop of color from the leaves beautiful autumn oranges, reds, and yellows. There's nothing worse than planting a new tree only for it to die when the harsh winter cold comes in. This is my third winter approaching and my trees are stronger and fuller than ever," says Dustin, a Western Star Regular.
The Bay Area landscape supply store gives a few tips on properly planting trees:
1. Dig a hole (approximately 20" deep for a 15 gallon tree size)
2. Mix a pile of approximately 50% planting mix and 50% native soil
3. Using mixture, fill the hole to proper planting depth, leaving approx. 15" for 15 gallon
4. Top of soil should be 1" above natural soil level allow tree to settle
5. Fill in around the plant with mixture, packing it slightly as you fill
6. Build the basin up at the edges so that it will hold at least 4-6" depth of water around trees
Western Star suggests taking advantage of the weather and the foliage of the season with deciduous trees that explode in a riot of autumn colors.
The pyrus, or pear tree, has been cultivated for many thousands of years, beloved for its sweet fruit and its beauty. Most species of pear trees are deciduous, so this time of year their leaves blaze orange and red. In the spring, pyrus blossoms blanket the tree in snowy white. Most species that bear fruit are harvested in late summer / early fall.
Acers, more commonly called maples, are one of the most beloved and widely planted trees. Their fall foliage is stunning—so beautiful, in fact, that many cultures hold leaf-watching ceremonies. In the spring, maple flowers attract bees, and in the summer their seed pods twirl in the wind (many children call them "helicopters" for the way they spin).
Liquidambars, or sweetgums, are commonly grown throughout California, and are recognizable by their leaves, which are shaped like a five-pointed-star, and their spiky fruits. Their fall colors are not just yellows and reds, but even dark purples and smoky browns. In the spring, their flowers are clusters of spherical stamens in green or pink. Their infamous spiked fruits are known by some as "burr balls" or "ankle twisters."
Pistachios originated in Persia and have been grown in Asia since antiquity, but didn't make it to California until 1854, and have only been grown here commercially since 1929. They have lovely golden and orange fall foliage, and lay dormant through the winter. The flowers are apetalous, and grow into drupes as summer begins. Fun fact: pistachios are not technically a nut; they are actually a seed.
Another tree recommended by the Bay Area and Sacramento landscape supply specialist is Lagerstroemia, or crape myrtles. Their leaves turn coppery and dark orange in late fall, and their silvery bark stands out in winter. Crape myrtle leaves are slow to start in spring, but their papery flowers bloom all summer and autumn, with long-lasting bunches of whites, pinks, reds or purples.
For more ideas on trees that will add fabulous fall foliage to any Bay Area and Sacramento landscape design, or any of Western Star Nursery's products or services, call them at (925) 862-2411 (East Bay) or (209) 744-2552 (South Sacramento), view them on the web at western-star-nursery.com, or visit one of their locations in Sunol or Galt.
About Western Star Nursery
Western Star Nursery is a wholesale nursery in Sacramento and the Bay Area serving landscaping contractors, developers, and commercial nurseries. Founded in 1996 by Robert and Sally Painter, Western Star Nursery has earned a reputation for growing high-quality products and offering superior service. From the most commonly used ornamental varieties to unusual phormiums, they stock a large and diversified selection of 1 gallon through 36" box trees and shrubs on over 100 acres. They also offer an efficient brokerage service and contract growing. The Western Star staff, many of whom have been with the company since its start, bring with them many years of nursery and customer service experience. Western Star features will-call, delivery and shipping services.
Western Star Nursery has locations in Sunol and Galt, and provides landscape design services and landscape supply to the Bay Area, Sacramento, and northern California. They offer delivery service throughout California and Nevada.
# # #