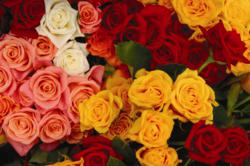 Growing beautiful roses begins with proper rose planting techniques and requires neither great rose gardening skills nor experience
Sunol, CA (Vocus/PRWEB) May 14, 2011
Western Star Wholesale Plant Nursery, a Sacramento and Bay Are a landscape supply wholesaler, knows why old saying goes, "Such joy in spring, do roses bring." The nursery loves this time of year for the fragrant and beautiful roses in full bloom. Western Star also loves roses because they're easy for anyone to grow successfully, wonderful to cut and bring inside the home, and they make sweet gifts for friends. The Bay Area wholesale plant nursery offers tips on planting and caring for roses.
"Growing beautiful roses begins with proper rose planting techniques and requires neither great rose gardening skills nor experience," according to Rose.org, the website for All-American Rose Selections, a nonprofit association dedicated to the introduction and promotion of exceptional roses.
First, gardeners should choose a good spot to grow the roses. It should be an area that gets at least four hours of sunlight every day. Most roses like plenty of space, so gardeners should make sure they're not too crowded.
Western Star says there are five easy steps to planting roses:
1. Dig a hole about 1 ½ to 2 times the size of the root ball.
2. Amend the soil with organic compost.
3. Backfill so that the rose sits about an inch above the soil level.
4. Make sure the rose plant is firmed in well.
5. Water, so as to soak for the first time to ensure a successful growth.
There are important guidelines to follow when caring for roses, says Kirsten Disbrow of Western Star, such as making sure the roses are properly watered, feeding them regularly, and keeping them insect-free. "Proper winter pruning along with deadheading the flowers when they are done blooming is also important," she adds.
For more information about growing roses or any of Western Star Nursery's products or services, call them at (925) 862-2411 (East Bay) or (209) 744-2552 (South Sacramento), view them on the web at http://www.western-star-nursery.com, or visit one of their locations in Sunol or Galt.
About Western Star Nursery
Western Star Nursery is a wholesale plant nursery in Sacramento and the Bay Area serving landscaping contractors, developers, and commercial nurseries. Founded in 1996 by Robert and Sally Painter, Western Star Nursery has earned a reputation for growing high-quality products and offering superior service. From the most commonly used ornamental varieties to unusual phormiums, they stock a large and diversified selection of 1 gallon through 36" box trees and shrubs on over 100 acres. They also offer an efficient brokerage service and contract growing. The Western Star staff, many of whom have been with the company since its start, bring with them many years of nursery and customer service experience. Western Star features will-call, delivery and shipping services.
Western Star Nursery has locations in Sunol and Galt, and provides landscape supply services and landscape design to Sacramento, the Bay Area, and northern California. They offer delivery service throughout California and Nevada.
###