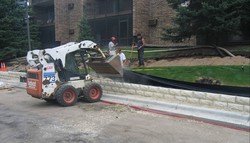 Back injuries are an occupational hazard, and installers can suffer other injuries - ranging from bruises, abrasions and cuts to crushed fingers and toes.
Minneapolis (PRWEB) June 10, 2008
According to Paul Forsberg, president of Millenia Wall Solutions, every landscape contractor knows that constructing retaining walls with large stones or manufactured concrete blocks is tough work. As an industry expert, Forsberg should know. He built his first large boulder wall when he was a teenager. In the 1980s, after creating mortar-less concrete blocks, he founded Keystone Retaining Wall Systems and helped launch the segmental retaining wall (SRW) industry. "The typical worker on a crew installing a retaining wall with conventional materials may lift a cumulative total of some 15,000 pounds per day," said Forsberg. "Back injuries are an occupational hazard, and installers can suffer other injuries - ranging from bruises, abrasions and cuts to crushed fingers and toes."
Welcome news for contractors and retaining wall installation crews: the weight is over. Millenia Wall Solutions has solved the weight problem and relieved the burden. Millenia makes SRW installation easier and faster.
"Instead of installers hauling and lifting heavy rocks or blocks into place, a front-end loader carries crushed stone fill to deliver the weight of a Millenia wall to the wall," said Robert Race, P.E., chief technology officer, Millenia Wall Solutions.
Millenia uses its patented Structural Cell Technology™ to produce lightweight retaining wall units consisting of a fill-containing confinement cell secured to a rigid frame. The units are manufactured in recycled resins and weigh just five pounds, compared to 60 to 100 pounds for concrete blocks. Unit-to-unit connection locks units in all directions to establish a solid integral wall with straight lines and even spacing. The frames' structural cross ribbing imparts added strength and rigidity, and their beveled edges make it simple for installers to form smoothly curved walls. Once the units are set in place and secured, the weight of the wall is attained by adding crushed stone fill. The innovative design of the confinement cells enhances the properties of the fill and creates complete flow of fill from the top to the bottom of the wall to achieve stability.
How do walls constructed with the Millenia system look? "The natural look of stone in the Millenia units is remarkable," said Jeremy Banken, owner, Structures Hardscapes Specialists, Inc. "The detail and even the feel of the faces are impressive."
Millenia Walls Solutions will exhibit its retaining wall system at home building's premier tradeshow and conference: PCBC 2008. This year PCBC will be held on June 24-27, 2008 at the Moscone Center, San Francisco, Calif. Millenia will be at booth #6602.
About Millenia Wall Solutions
Headquartered in Minneapolis, Minn., Millenia Wall Solutions (http://www.milleniawalls.com) is setting the 21st century standard for the construction of segmental retaining walls by advancing the most significant innovation in the industry since the 1980s. Lead by industry experts Paul Forsberg and Robert Race, Millenia is introducing an inventive, high-tech alternative to conventional building materials. Millenia is a member of the U.S. Green Building Council. Our retaining walls are eco-friendly and offer incomparable beauty, strength, stability and durability - achieved with lightweight, recycled polymeric resin materials that contractors can install easily, quickly and with less labor. The weight is over. Ready to build intelligently? Check out the Millenia Project Video on our Web site. Then give us a call at 1.866.549.WALLS (9255).
Notes to Editors: (1) Millenia Wall Solutions maintains an online newsroom for the convenience of the media. The Millenia Project Video on the company's Web site offers a useful orientation to the essential features and benefits of the Millenia retaining wall system. (2) High-resolution illustrations of Millenia's technology and images of walls completed with the Millenia system are available to members of the media upon request. (3) Contact David Aquilina to schedule an editorial appointment at PCBC 2008.
# # #