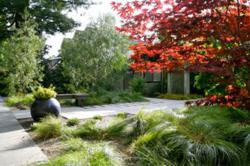 Both Bay Area garden design professionals and do-it-yourself weekend warriors should be knowledgeable about this area's Mediterranean climate and the effect plants and water use have on our eco system
San Francisco, CA (PRWEB) May 16, 2012
According to the National Weather Service, California is on track for drought conditions to "persist and intensify" this summer. Keeping a Bay Area landscape architect on his staff, Chris Jacobson, one of the most creative horticulturists in the state and founder of GardenArt Group, says excessive water use during California's dry summers puts a strain on the fragile environment. With the help of Jacobson's ten useful techniques, gardeners can grow a drought resistant garden while conserving water.
"Both Bay Area garden design professionals and do-it-yourself weekend warriors should be knowledgeable about this area's Mediterranean climate and the effect plants and water use have on our eco system," said Chris Jacobson. "This information will keep gardens looking beautiful and sustainable while conserving water, perhaps our greatest natural resource."
Jacobson's blended passions of horticultural sensibility, environmentalism and art led to the creation of GardenArt Group, which has been the vanguard of water use creativity. For the past 25 years, the full service garden design and landscape architectural group has been devising models for new Bay Area landscaping plans and gardens that better fit the area's climate and water supply limitations.
Jacobson offers the following ten water-saving recommendations for Bay Area gardens:
#1 Zone or Cluster Plants with Similar Water Requirements
By grouping plants with similar water needs, you not only can keep water to the minimum requirement, but you also don't risk drowning plants that require only scant amounts of water.
#2 Reduce or Remove Lawns
Grass—typically the largest water bug in California yards—can be replaced with a meadow of drought-resistant grasses, bulbs and low perennials. When considering the continuation of a lawn, it often helps to ask yourself questions, like: Is that massive lawn used for anything? Do the kids play on it? Is it used frequently for picnics? If the answer is no, replacing the lawn with alternative grasses or plants that require less water is probably a good choice.
#3 Flush Out Drip Irrigation Systems Annually
Drip irrigation systems should be cleaned out once a year, and spring is the ideal time. Once installed, drip systems require little maintenance, but they must be flushed out regularly, getting rid of any dirt or other particles that get into the system and ensuring water flows smoothly and hits the target areas correctly.
#4 Incorporate Succulent and Rock Gardens into the Landscape
Replacing lawns or other thirsty plants with succulent and rock gardens in areas of your outdoor environment reduces water demand and maintenance. Such gardens also add a modern and stylish look to landscapes.
#5 Mulch
The use of organic or mineral mulch helps retain moisture and maintain even soil temperatures.
#6 Sweep Up, Don't Hose Down
Use a broom instead of a hose to clean off sidewalks, driveways and other hardscapes.
#7 Plant Winter-Growth Gardens
Use plants that grow in the winter when there's moisture, rather than summer growers that require lots of water. Most plants and bulbs that are native to Mediterranean climates including Western Australia, the western coast of Chile, the Cape area of South Africa, California and of course, the entire Mediterranean basin are good bets for water conserving gardens.
#8 Collect Runoff Water
Keep runoff water on the property with French drains, swales or sumps, which contain water in a designated area and help to better manage water use. These systems also help filter pollutants and increase rainwater soil infiltration.
#9 Stop Using So Much Fertilizer
By all means, limit the use of fertilizers, which are not good for the environment and may cause damage to plant life. Most Mediterranean plants reject fertilizers, so plant selection is critical.
#10 Misuse of Water and Fertilizers May Attract Pests
Fertilizers and overwatering can cause overly lush growth, which can attract pests and diseases.
This month, the Northern California chapter of the International Mediterranean Garden Society will showcase some of the Bay Area landscaping installation work of Chris Jacobson. The gardens on this tour feature stylish substitutes for the usual front lawn. Instead of mown grass, Jacobson uses the much more drought tolerant Mediterranean-climate ornamental grasses and carexes, along with drought tolerant shrubs and ground covers, often set in stone paving or gravel. Although the garden tour is restricted to members of the society, photographs of drought sensitive gardens can be viewed on Jacobson's website http://www.gardenartgroup.com.
About Chris Jacobson and the GardenArt Group
Chris Jacobson began creating Bay Area landscape designs in the early 1970s while pursuing a career in the fine arts. He eventually fused the two pursuits into one concept, GardenArt. A fourth-generation California horticulturist, Chris has been one of the proponents of the New California Garden, an emerging movement that combines environmentalism, multi-culturalism and art.
Jacobson is a member of the Northern California chapter of the International Mediterranean Garden Society advisory board. The Society provides a means for gardeners of these unique climates to exchange information concerning their specific gardening needs, the most pressing being water conservation.
Jacobson's work has been featured in Sunset, Country Homes and Gardens, Architectural Digest, Northern California Home and Garden and Peg Streep's zen gardeners guidebook Spiritual Gardening. He has also penned his own horticulture care and design handbook, A Different Shade of Green: Manual for The New California Garden.
For more information about the GardenArt Group and Bay Area landscaping installation, call (415)-722-0615 or go to http://www.gardenartgroup.com.