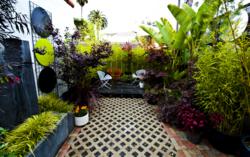 Calimesa, CA (PRWEB) June 30, 2011
Gardens come in all shapes and sizes, and the landscaping design ideas that go into them are truly one-of-a-kind. Online landscaping design resource, LandscapingNetwork.com reveals today's top six leading garden styles from across the country. Offering a multitude of design ideas, consumers can easily gain inspiration for new summer garden projects.
Gardens at home have long been a staple for homeowners who want to enjoy the outdoors by creating inviting and relaxing spaces perfect for reading the morning paper, to enjoying a glass of wine with friends. They are often a representation of self, and take on a lot of character.
These are today's most popular garden styles that seem to be popping up in yards across the country:
1. Modern gardens that include contemporary paving and furniture.
2. Japanese gardens designed for peaceful contemplation.
3. Mexican gardens that center around socialization and entertaining.
4. English cottage gardens providing a cozy, romantic atmosphere.
5. Desert gardens built for functionality and low maintenance.
6. Tropical gardens that are lush with tropical plants and bold colors.
Whatever the style may be, these gardens offer consumers a multitude of design ideas and options for creating the perfect garden at home. The rules of design are open for interpretation.
For more information on garden styles and design, education, events and tours, visit PacificHorticulture.org.
LandscapingNetwork.com works with a team of professional landscape designers and writers to bring together the very best landscaping resources and information available. Homeowners, landscape designers and architects can also stay up-to-date through the site's training and events section, offering the latest on upcoming industry shows, classes and more.
For consumers ready to turn their landscaping design dreams into reality, the site offers a handy, easy-to-use Find a Landscaper directory to find local landscape designers and contractors throughout the United States and Canada.
For more on landscaping designs and ideas, landscaping photos and more, visit LandscapingNetwork.com.
Article photos courtesy of LandscapingNetwork.com.
###