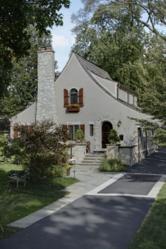 "A home worthy of a storybook romance begs for an entryway that casts a spell. Each element signifies arrival, and extends an invitation toward the front porch and living spaces." Bob Hursthouse
Bolingbrook, IL (PRWEB) May 06, 2011
Spring is here – or least the calendar says it is. As warmer weather beckons folks back outside, there's no better place to gather and watch the world go by than on a fashionable front porch.
Fronting a home with fairy tale cottage curbside appeal, an enchanting porch in Glen Ellyn recently won the Illinois Landscaping Contractor Association's [ILCA] Gold Award. Designed and constructed by Hursthouse Landscape Architects and Contractors, "Once Upon a Front Porch" is a storybook landscape project that casts a spell on everyone who passes by and enters the home. Hursthouse is an award-winning landscape architecture and contracting firm with clients in the Chicago area, throughout Illinois and around the Midwest. View Hursthouse's landscaping gallery at http://hursthouse.com.
Built in 1928, the home's former entryway did not match the home's historical character. A narrow walk led up to a few stairs with handrails to a petite landing area. Construction and materials clashed with the home and there was no connection between the driveway and the entryway.
When Kim and Dave Prickett purchased the property, they knew they wanted to echo the home's original character in the exterior landscape design. And, they knew exactly who to call.
"Over the years, I've been privileged to work with Hursthouse to develop their marketing materials. As a designer myself, I appreciate Hursthouse's passion to create incredible landscape solutions that impact people's lives. My firm, White Space, specializes in creating custom identity programs for small businesses. Like a landscape, a well designed and thought out identity expresses who you are today and, into the future, it builds value as it matures," Dave Prickett said.
Describing Hursthouse's design approach, Mr. Prickett said, "Great designers have the vision to look beyond the ordinary, that's what I see in Hursthouse. What intrigues me about Hursthouse is how they create original works of art even though they use the same plants and materials as other landscaping companies. Their compositions are artistic, yet purposeful, and place a tremendous importance on scale and how elements integrate together."
Along with the ILCA Gold Award, the home is also the winner of the Village of Glen Ellyn's Historic Preservation award for its sensitivity to detail.
"A home worthy of a storybook romance begs for an entryway that casts a spell. Each element signifies arrival, and extends an invitation toward the front porch and living spaces," said Bob Hursthouse.
According the homeowners, the porch has hosted pint-size pirate parades, techno teen gatherings, prom parties, chalk art galleries, couples and cocktails, and impromptu block brunches.
Intentionally designed to be larger than it looks, the garden foyer area combines several elements into a narrow lot, which is made even smaller by the limits of a tight building setback.
While the main focus of the project is the arrival sequence, many design details contribute to the project's pleasing landscape architecture and construction.
Custom cut quarry stone, selected to match the original stone's 70 year-old weathered finish, blends in as a freshly aged partner in porch walls and columns. Near the sidewalk at the end of the property, a freestanding column adorned by a seasonal planter repeats the porch proportions. On the porch, limestone columns greet guests with cheery seasonal plantings.
On the home's façade, oiled hardwood shutters punctuate windows with color that enriches the home's monochromatic exterior color palette.
Bluestone paving extends the interior foyer's slate tile, while generous stone-clad steps provide additional seating and lead to a gathering area below. Three inch thick rock-faced bluestone coping reinforces the texture of the home and masonry.
Flanked by a carriage walk, the driveway is inlaid with limestone cobble to complement the home's detailing. Each element signifies arrival, and extends an invitation toward the front porch and living spaces.
At night, low voltage landscape lighting with photovoltaic timers complements the home while highlighting the façade and its features. Cast bronze bullet lights and copper path lights extend the home's inviting character into the evening hours. Line voltage outlets and low voltage light fixtures within the walls and columns provide functionality and security.
Plant materials include shade trees and border plantings that diffuse late afternoon sun from the site's western exposure, while providing scale and framed views while on the porch. An intentional placement of perimeter plantings frames the home, provides subtle views, and offers light relief from late afternoon sun angles. Causal planting textures soften hardscape edges, reinforcing a cottage aesthetic – and adding to the enchanting "Once Upon a Porch" effect.
"As we watch, the landscape becomes more and more of our own. It would be hard to recreate that somewhere else. We enjoy living through it and visualizing it through our family's life stages. Thinking ahead, the porch's foundation is deep enough to support a full enclosure or a cover. But for now, we enjoy being outside in the open," said Mr Prickett.
About Illinois Landscape Contractors Association (ILCA)
Since 1959, ILCA has provided its members with the resources needed to enhance their performance and ensure continued growth and success. The Association's mission is to enhance the professionalism and capabilities of members by providing leadership, education and valued services while promoting environmental awareness within the landscape industry. ILCA is a 501 (c) (6) nonprofit trade association with more than 800 member companies. Bob Hursthouse is an ILCA past president and was named ILCA Man of the Year for 2004. Jeff True, vice president of operations at Hursthouse Inc., currently serves on the ILCA Board of Directors.
About Hursthouse, Inc. Landscape Architects and Contractors
Founded in 1990 on a culture based on vision, integrity and performance, Hursthouse, Inc. creates landscapes that connect clients' values and lifestyles to their environment. Based in Bolingbrook, Hursthouse design projects number approximately 1,000 landscapes throughout Chicago's western suburbs. Bob and Robbi Hursthouse, the firm's co-founders, live in Naperville, Illinois. In 2009, the Naperville Area Chamber of Commerce named Hursthouse, Inc. the Small Business of the Year and Bob Hursthouse won HGTV's "Landscapers' Challenge" (2007). To interview Hursthouse team members about landscape design, outdoor living or sustainability, contact Terre Houte at 630.759.3500 or email thoute(at)hursthouse(dot)com. To browse images for publication, visit http://hursthouse.com.
###