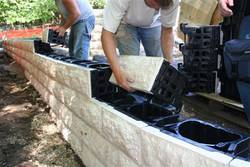 Contractors constructing retaining walls with Millenia wall units can install double the amount of wall per day with half the crew
Minneapolis, MN and San Francisco, CA (PRWEB) June 25, 2008
In today's real estate market, developers, builders and contractors need new materials and methods that improve construction efficiency. Today in San Francisco, Calif. at PCBC 2008, the homebuilding industry's foremost trade show and conference, Millenia Wall Solutions (booth #6602) announced that its revolutionary retaining wall system enables contractors to achieve dramatic improvements in productivity. Using conventional materials (such as manufactured concrete blocks) to construct a segmental retaining wall (SRW), a typical five-man crew can complete about 750 square feet per day. With Millenia's system, a three-man crew can install from 1,500 to 2,000 square feet per day.
"Contractors constructing retaining walls with Millenia wall units can install double the amount of wall per day with half the crew," said Paul Forsberg, president, Millenia Wall Solutions.
"Contractors can achieve remarkable productivity with our technology because Millenia wall units are so lightweight and easy to install," said Robert Race, P.E., chief technology officer, Millenia Wall Solutions. "The Millenia system makes SRW projects easier, faster and hassle-free - exactly what commercial and residential real estate developers and builders need today."
"Because of the unique way in which Millenia units connect and lock in together above and below, the technology solves the problem of overturning. They exceeded my expectations during the construction process. When the soil was compacted, Millenia units did not shift or rotate forward," said Michael Johnson, P.E., Civil Solutions Group, Minneapolis, Minn. "One of the other ways in which Millenia saves time is by eliminating the frustrating problem of broken and cracked corners that installers often get when they position concrete blocks together."
Millenia Wall Solutions is setting the 21st century standard for retaining walls. Millenia's patented Structural Cell Technology™ replaces conventional materials with lightweight units consisting of a confinement cell secured to a rigid frame. Millenia Wall units are available in two sizes: 6 inches high x 12 inches wide x 9 inches deep (one-half square foot) and 8 inches high x 18 inches wide x 12 inches deep (one square foot).
The units are manufactured in 100 percent recycled pre-consumer polymeric resin, offer a decided environmental advantage for sustainable building, and weigh only five pounds per square foot. Unit-to-unit connection locks units together in all directions with unsurpassed holding power and forms solid integral walls with consistent spacing and straight lines. The structural cross ribbing of the frames adds strength and rigidity, and their beveled edges make it easier for installers to form smoothly curved walls.
Attractive faces, caps and corners for the units are fabricated in an array of designs, shapes, sizes and colors with Millenia's patent-pending imaging technology that captures the nuances of natural stone. Millenia faces, caps and corners are available in four styles: SandStone, ChiseledStone, LedgeStone and AshlarStone. Millenia produces each style in five different patterns so that finished walls feature the subtle variations in texture and detail that are characteristic of natural rock formations and quarried stone. Moreover, each style is available in an array of natural colors.
Once the units are set in place and secured, weight is achieved by adding gravel or crushed stone fill. "Rather than installers manually lifting heavy blocks, a front-end loader delivers the weight of the wall to the wall," said Race.
Millenia Walls Solutions is showcasing its remarkable retaining wall system at PCBC 2008, Moscone Center, San Francisco, Calif. Millenia is at booth #6602.
About Millenia Wall Solutions
Headquartered in Minneapolis, Minn., Millenia Wall Solutions (http://www.milleniawalls.com) is setting the 21st century standard for the construction of segmental retaining walls by advancing the most significant innovation in the industry since the 1980s. Lead by industry experts Paul Forsberg and Robert Race, Millenia is introducing an inventive, high-tech alternative to conventional building materials. Millenia is a member of the U.S. Green Building Council. Our retaining walls are eco-friendly and offer incomparable beauty, strength, stability and durability - achieved with lightweight, recycled polymeric resin materials that contractors can install easily, quickly and with less labor. The weight is over. Ready to build intelligently? Check out the Millenia Project Video on our Web site. Then give us a call at 1.866.549.WALLS (9255).
Notes to Editors: (1) Millenia Wall Solutions maintains an online newsroom for the media. The Millenia Project Video on the company's Web site provides a helpful overview of the primary features and benefits of the Millenia retaining wall system. (2) High-resolution illustrations of Millenia's technology and photos of walls completed with the Millenia system are available to members of the media upon request. (3) Robert Race is available for media interviews at PCBC (booth #6602) on Thursday, June 26 and Friday, June 27.
###