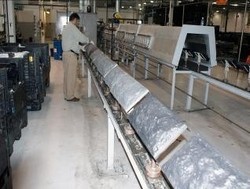 We went through several rounds of product and manufacturing process refinements
Minneapolis and Detroit (PRWEB) May 29, 2008
Millenia Wall Solutions, developer of a revolutionary new retaining wall system, and Structural Plastics Group (SPG), a full-service molder of structural foam and injection molded plastic products, announced that they have entered into a manufacturing agreement. Under the agreement, SPG manufactures all of the components of the Millenia system in 100 percent recycled, pre-consumer polymeric resin.
"We looked long and hard for the right manufacturer with the capabilities and capacity to produce our products," said Paul Forsberg, president, Millenia Wall Solutions. "SPG's key people are experienced, and they know how to deliver."
"We went through several rounds of product and manufacturing process refinements," said Robert J. Race, P.E., chief technology officer, Millenia Wall Solutions. "SPG is in full production now, and we are receiving daily shipments of products consistent with our specifications."
"Our agreement enables SPG to participate in the growth of Millenia's next-generation retaining wall system that is transforming the industry to polymeric resin solutions," said Michael Sancimino, chief executive officer, Structural Plastics Group. "With Millenia's inventive technology, retaining walls are beautiful, durable and easier to install than timber, rock or concrete walls. And Millenia products are earth-friendly, a decided advantage in the marketplace."
Millenia's patented Structural Cell Technology™ (SCT™) provides lightweight retaining wall units that feature a confinement cell secured to a rigid frame. The units, which SPG now manufactures for Millenia in recycled resins, weigh only five pounds. Unit-to-unit connection, with the units interlocking in all directions, forms solid integral walls with consistent spacing. The structural cross ribbing of the frames adds strength and rigidity, and beveled edges make it easy to form curved walls. After installers set and secure the units in place, a Millenia wall's weight is achieved by adding crushed stone as fill. The ingenious design of the confinement cells ensures continuous flow of fill from top to bottom to achieve stability without work crews having to lift and position heavy rocks or concrete blocks. The units can also be secured to soil-reinforcing geogrids for walls up to 20 feet in height.
Attractive faces, caps and corners for the units are fabricated in an array of designs, shapes, sizes and natural colors with Millenia's patent-pending imaging technology that captures the appearance and subtle details of rock formations and quarried stone. The imaging technology is used to make exact impressions of real stone faces that are then used to form the molds for producing the faces, caps and corners. When SPG manufactures the components, the polymeric resin material flows completely into every detail. Special paints and additives incorporate colors and texture.
According to an independent Life Cycle Assessment, when used to replace concrete, Millenia polymer wall units yield a 55 percent reduction in overall environmental impact, with a 65 percent reduction in greenhouse gas emissions. Based on the Leadership in Energy and Environmental Design (LEED) Green Building Rating System, using Millenia walls units can qualify builders for up to eight LEED credit points.
Millenia Walls Solutions will present its retaining wall system at PCBC 2008, home building's leading tradeshow and conference, June 24-27, 2008 at the Moscone Center, San Francisco, Calif. Millenia will be at booth #6602.
About Structural Plastics Group
Structural Plastics Group (SPG) is a full-service, custom molder of structural foam and injection molded plastic components and assemblies. SPG manufactures large and small tonnage structural foam and injection molded components, and the company's capabilities range from in-house product design and testing to painting and assembly of finished products. SPG is a privately held company located in Sterling Heights, Mich. For more information, visit http://www.structuralplasticsgroup.com or call SPG at 586.276.9900.
About Millenia Wall Solutions
Headquartered in Minneapolis, Minn., Millenia Wall Solutions (http://www.milleniawalls.com) is setting the 21st century standard for the construction of segmental retaining walls by advancing the most significant innovation in the industry since the 1980s. Lead by industry experts Paul Forsberg and Robert J. Race, Millenia is introducing an inventive, high-tech alternative to conventional building materials. Millenia is a member of the U.S. Green Building Council. Our retaining walls are eco-friendly and offer incomparable beauty, strength, stability and durability - achieved with lightweight, recycled polymeric resin materials that contractors can install easily, quickly and with less labor. The weight is over. Ready to build intelligently? Check out the Millenia Project Video on our Web site. Then give us a call at 1.866.549.WALLS (9255).
Note to Editors: To schedule an editorial appoinment with Millenia Wall Solutions at PCBC 2008, contact David Aquilina.
# # #