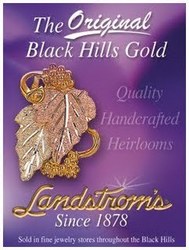 Boulder, CO (PRWEB) August 30, 2009
During the past several weeks, Landstroms has introduced dozens of pieces of vermeil jewelry to their product line. Landstroms, the original Black Hills Gold manufacturing company, has been creating beautiful designs for over 130 years in their South Dakota factory. Traditional Black Hills Gold jewelry features gold grapes and grapevines and pink colored and green colored leaves integrated into each piece of jewelry. These designs came out of the Black Hills mining camps during the last great American gold rush in the late 1800's.
Landstroms Vermeil (pronounced: ver•may) jewelry is hand crafted in .925 sterling silver, plated with 24 karat Black Hills Gold. The grape clusters, infinity symbol and accent motifs are still made from 10 karat Black Hills Gold while the leaves remain 12 karat. From classic to chic, this collection of Black Hills Gold Vermeil jewelry includes some of the most popular Black Hills Gold designs at the most affordable prices.
According to BlackHillsGoldSource.com owner and founder Michael Amato, "Since Landstroms' birth in 1878 our nation has gone through many turbulent times- wars, depressions, you name it. And through it all, Landstroms has been there to represent America's pride. With this new line of jewelry folks can be sure they're getting that same Landstroms quality at the most affordable prices."
Landstroms new lineup currently consists of only Black Hills Gold Pendants and Black Hills Gold Earrings. More styles may be on the way if the current designs show enough activity. Amato says, "Let's face it, even though we're through the worst of it, it's been a tough year and a lot of people have gotten hurt. With Christmas just around the corner, there couldn't have been a better time for Landstroms to introduce this new line of inexpensive Black Hills Gold jewelry."
Landstroms is the original Black Hills Gold jewelry, dating back to 1878 when S.T. Butler opened the first Black Hills Gold jewelry manufacturing store with his son in Deadwood, South Dakota. Over the years the company has developed thousands of different items while remaining the sole owner of all the original Black Hills Gold designs.
Landstroms Black Hills Gold Jewelry is not only a unique American art form; it represents a true piece of American history. And since each piece is made by hand, no two pieces are alike. As a result, Landstroms has been cherished and sought after for generations.
Based in Boulder, CO, BlackHillsGoldSource.com maintains a close relationship with Landstroms factory in neighboring South Dakota, and is committed to making quality Landstroms Black Hills Gold jewelry affordable for every household in America, and beyond.
Contact information:
Michael Amato
http://www.BlackHillsGoldSource.com
Phone: 605-221-6120
###