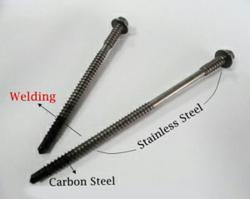 Kaohsiung, Taiwan (Vocus/PRWEB) February 09, 2011
Landwide Co., Ltd. is a professional screws and fasteners manufacturer and supplier in Taiwan, exporting quality products to the world. Specialized in customized screw manufacturing, Landwide achieves high standard of the industry with TUV and SGS certification, owning fames from customers all over the world. The supplier also participates annual trade shows such as International Hardware Fair Cologne/Stuttgart and National Industrial Fastener Show in Las Vegas, getting more and more exposure to the world.
Established in 1992, Landwide Co., Ltd., has devoted itself in the field of construction and furniture fastener manufacturing. Main products include stainless steel screw, concrete screw, Tek screws, deck screws, and roofing screw. Considering the competitive environment of the domestic market, the supplier pushes itself to further boundary. Not only manufacturing normal fasteners for construction and furniture, Landwide focus on customized orders from all over the world, putting efforts to maximize the advantage in the field to meet the needs. Landwide set up their own exporting brand in 2006, in order to reach out for more clients, and face more challenges in the world market. "We are extremely confident in screw quality, manufacturing technique, and flexible service & delivery." said Ms. Kuo, Sales Manager of Landwide Co., Ltd.
Currently, Landwide emphasize on the major market in Europe and the USA. Up to 60% of customers are from Europe, 30% from US, and 10% from Asia. Western European customers visit Landwide's factory annually to examine with their strict standard of screws manufacturing. With professional techniques, Landwide passed every year, acquiring patent authorization to produce customized screws and fasteners.
Features and Customized Screws Series of Landwide
Landwide Ltd., Co. cares about the quality of products. With high standard of product line and strict QC process, the supplier acquired TUV and SGS certifications, and ISO 9001 certificate. As a result, Landwide is capable of fulfilling customer's needs of customizing special fasteners. Currently, the available service includes purchase and selection, screw design, coating, and packaging, etc; almost covering the whole range of screw manufacturing. Different from common suppliers in the market, it is worth mentioning that Landwide supplies both bulk order and small packages to the market. The supplier has their own packaging product line, which can also meets the demand of DIY users in addition to large manufacturers.
On the other hand, considering the featuring part of Landside's product line, customized screws, it assisted a great amount of Western European clients. To fulfill special demand of customers is always a tough work. For instance, designing screw with deeper drive, which may possibly cause splits in screw heads, leading to higher defective rate and unstable performance. However, Landwide provides the solution; with proper adjustments and a series of testing and improving process, the supplier overcomes potential risks and successfully manufactured the desired customized screw to the client. Another custom case dealt with screw bending angle. Regular stainless steel 410 screw can only tolerate bending angle under 30 degree, while Landwide reached 45 degree under the same mechanical conditions. Examples above clearly demonstrate why Landwide can take the lead in the competitive screw industry. Landwide Co., Ltd. is equipped with standard screw testing machines. "With solid and strict QC procedure at each manufacturing phase, the custom screws manufacturer and designer, Landwide, is always perusing the ultimate goal of providing best quality, best price, and best service to every single clients in the world." States by Ms. Jennifer Kuo, sales manager of Landwide Co., Ltd.
Unique Technique of Bi-Metal Screw
Landwide is also proud of its unique technique of manufacturing the latest screw series, "Bi-Metal Screw." Combined with the both advantages of carbon steel and stainless steel, the manufacturer successfully develops a more durable product with warranty. The screw is a welded piece, with half stainless steel on the upside, and carbon steel on the downside; by adopting this special technique, the screw is more durable than the usual ones – it is hard enough to deal with harsh conditions like thick steel plate drilling, while also have the characteristic of decreasing opportunities of becoming rusty. The Bi-metal screw is applicable in #2, #3, #5 and #6 drilling point, with length ranges from 13mm to 300mm, and diameter ranges from M2.5 to M10.
Delivering Products with Efficiency and Quality
Another feature Landwide process is the efficiency of delivery the products. Safety stock plays an important role for customers, which allows business operations to proceed according to their plans. Considering currently that most of the customers prefer to maintain their safety stock quantity just enough for about one month, Landwide pushes itself to keep up on the global trend. Normally, screw manufacturers complete orders and deliver in about 60 to 90 days; however, Landwide can deliver screws to customers in just about 40 days. Further, even difficult orders like Bi-metal screws can be finished in 90 days (normally the working time is 150 days). By doing so, Landwide fulfills the demand of saving the amount of stock for customers- not only preventing the problem of stockout, but winning trust form customers.
International Trade Fairs Push Landwide onto Global Market
To maintain on the speed of constant changing global trend of present development in screws & fastener industry, and keep contact with global clients in the after market, Landwide participate international exhibitions annually. For instance, International Hardware Fair Cologne in German and National Industrial Fastener Show at Las Vegas are the most prestigious trade shows in the industry, which Landwide never miss.
In the future, Landwide will proceed to introduce more innovative techniques to the market, hoping to become the leading screw supplier worldwide.
###