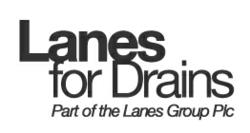 I believe this project shows what Lanes for Drains delivers – the best expertise and the best technology matched by a can-do spirit. - Damian Tranter (Sales Manager, Lanes for Drains South Wales)
(PRWEB UK) 18 May 2012
Lanes for Drains engineers have been praised for recently solving a challenging drainage problem that threatened to disrupt the restoration of one of the most important buildings in the historic city of Bath – days before the project was due to be finished.
The contractor, Swindon-based Beard, was about to complete the £2.4 million project to refurbish the Grade 1 Listed St John Hospital in the centre of the city when a difficult drainage problem emerged.
Steve Parsons, Operations Manager for the Lanes for Drains Bristol Depot, said: "It became clear that a complex repair was required on a drainage line that was in-accessible using traditional techniques.
"Fortunately, Lanes has built up a high level of expertise in the most advanced no dig technology, partly because, as a national company, we come across these problems more frequently.
"By using a robotic cutter and a special repair kit, called a radial packer, plus some innovative ideas from the team to apply the technology in this particular situation, we were able to complete the task.
"The damaged to the pipe posed a severe risk of collapse and, in the near future, would have rendered this area of the system unusable. Given the point in the project, the challenge was to find a solution that was quick, yet effective, and that's what we were able to deliver."
Beard's project manager, Tim Pooley, said: "The problem emerged just at the wrong time, a few days before the projected completion date. It looked like it could have been costly and time-consuming to fix.
"However, the Lanes team was very proactive. They were honest enough to say they couldn't promise anything, but they then came up with a very good, quick, cost-effective solution."
St John's Hospital was built by renowned architect John Wood, The Elder, in 1728. Wood was known for his 'sublime' Regency architecture. He was responsible for many of Bath's world-famous landmarks, including The Circus, Prior Park and Queen Square.
The restoration work was carried out on two buildings at the hospital, John Wood House and Fitzjocelyn House which, together, provide 15 flats for elderly people.
Tim Pooley said: "This was a prestigious project for us. St John's Hospital is a landmark building in Bath and our client does excellent work in the city. It was very important the project ran smoothly – and Lanes played their part in making that happen."
In all, the Lanes team carried out 13 patch repairs – in which glass fibre liners were inserted in the pipes and hardened with resin – where the cement-jointed clay pipes had suffered significant cracking and posed a risk to the continued use of the system.
At several points, a robotic cutter was used to repair displaced joints. A jet vac tanker was used to clean silt, debris and encrusted material from drainage channels. Finally, a robotic HD video camera was used to survey the drainage system so the client had the assurance it was back to full working order.
Damian Tranter, Sales Manager for the Lanes for Drains South Wales and Avon Division, said: "I believe this project shows what Lanes for Drains delivers – the best expertise and the best technology matched by a can-do spirit."
St John's Hospital was founded in 1180 and is among the longest-established almshouses in Britain. It is run by the St John's Charity whose patron is Her Royal Highness the Duchess of Cornwall.
About Lanes for Drains:
The Lanes Group is a family-owned company with headquarter offices in Leeds and Manchester. It was founded in 1992 and includes Lanes for Drains, Lanes Sewer Renovation, Lanes Rail Division and Castlebrae Drainage Services. It operates from 21 depots across the UK, with 741 staff and had a turnover, in 2011, of £49m.