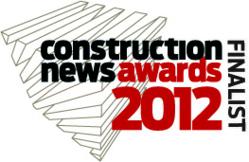 The achievement reflects the significant investment Lanes for Drains puts in to setting the highest standards in health and safety and the commitment all our staff make in striving to make sure they are met. - Wayne Earnshaw (Lanes Group)
(PRWEB UK) 19 April 2012
Health and Safety is one of the most competitive categories in the Construction News Awards, considered by many to be the highest accolades in the industry.
Lanes for Drains had to put together a 1,000 word submission backed by detailed evidence. Our information was carefully considered by a judging panel made up of some of the most eminent health and safety experts in the UK construction industry.
Wayne Earnshaw, Lanes Group plc Managing Director, said: "Being selected as a finalist in the Construction News Health and Safety Award is highly significant for us because we strongly believe a safe business is good business both for us and our customers."
"We were able to point to a wide-ranging series of co-ordinated health and safety initiatives during 2011 which, together, have contributed to a significant reduction in the accident rate during the year".
Innovative measures taken have included:

A new safety system for working at height on railway platforms
The UK's first City and Guilds course for drainage engineers
Introduction of 'stop cards' allowing staff to report conditions they consider to be unsafe
A 60% increase in safety training and a 90% increase in spending on safety equipment
A behavioural safety staff training course to embed a positive mindset about health and safety
Health and Safety is one of 17 categories for the main Construction News Awards.
Judges will now visit Lanes for Drains in May 2012 to interview key personnel face-to-face. The winner is due to be announced at a ceremony on July 10.
Wayne Earnshaw said: "The achievement reflects the significant investment Lanes for Drains puts in to setting the highest standards in health and safety and the commitment all our staff make in striving to make sure they are met."
"There is no doubt that the Construction News Awards are among the most prestigious accolades in our industry so we are extremely pleased to have our approach to doing business recognised in this way."
The Lanes Group plc includes Lanes for Drains, the UK's largest independent drainage specialist; Lanes Sewer Renovation; Lanes Rail Division and Castlebrae Drainage Services. The Group operates from 21 depots across the UK, with 741 staff and a turnover for 2011 of £49 million.
For more information, visit http://www.lanesfordrains.co.uk.