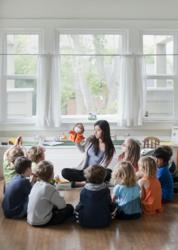 "Parents are beginning to realize that the long-term benefits of foreign language education outweigh the benefits of some other after-school enrichment programs," said Michael Fee, founder of Lango.
San Francisco, CA (PRWEB) July 08, 2011
This fall, more American children will be learning a foreign language than ever before – but not necessarily during school hours. While increased awareness of the benefits of learning a foreign language as a child has parents requesting more classes at an earlier age, budget cuts have forced schools to eliminate many foreign language programs and teachers. The solution? Elementary schools across the country are now adding foreign language programs to their after-school enrichment options.
One foreign language program for kids that offers after-school program partnerships is Lango. Lango, which offers classes in French, Mandarin and Spanish for children ages 18 months to 11-years-old, has seen significant growth in demand for its after-school classes. Lango currently works with more than 150 elementary schools in more than 20 states across the U.S. and anticipates a fifty percent increase in its after-school classes by fall 2011.
"Lango expects to see about 75 new school partnerships start this fall, all of them offering a foreign language after-school enrichment option," said Michael Fee, founder of Lango. "Parents are beginning to realize that the long-term benefits of foreign language education outweigh the benefits of some other after-school enrichment programs."
Parents are the main driving force behind the increase in foreign language after-school programs.
"In addition to our Spanish program that begins in preschool, parents asked us for more foreign language options in our after-school enrichment programs," said Kelly Woods, Principal of Stratford School of San Francisco. "To meet this need, we now offer Mandarin classes through Lango. The students have enjoyed the experience, and we look forward to expanding our after-school language offerings through Lango as our elementary student body continues to grow."
Parents report that they like Lango classes because they know their kids are learning, while their children seem to find the classes fun and engaging due to the class structure. Each 45-minute Lango class is filled with games involving colored hoops, bean bags, scarves, photos, music, dancing, and physical interaction. Students spend time moving around and being active, which helps release pent up energy after a long day at school.
"Lango classes are specifically designed to be fun and engaging for children – a series of games and activities instead of strict formal learning," said Fee. "But, the kids are learning – and the benefits of learning a second language at a young age are dramatic. Increased cognitive development, better concentration and higher SAT scores later in life – to name just a few."
A recent article in the New York Times discussed the benefits of raising multilingual children and learning a second language early in life. Ellen Bialystok, a cognitive neuroscientist, says growing up bilingual makes the brain's executive control system more efficient by helping children focus on what is relevant and ignoring distractions. She also discovered that bilingual children have better cognitive development than monolingual children. Bilingual children have also been shown to earn higher test scores, quickly develop social and communication skills, and gain a deeper appreciation for other cultures.
About Lango
Lango teaches children ages 18 months to 11-years-old French, Spanish and Mandarin through Adventure Learning, an innovative approach that combines stories, music and movement, playacting, and game-playing. In addition to weekly year-round classes, Lango also offers a summer day camp program called Camp Lango. http://www.langokids.com. Lango is a division of Intrax, a family of organizations that provide a lifetime of high quality educational, work and volunteer programs that connect people and cultures. Intrax is headquartered in San Francisco with offices in 14 countries.
###