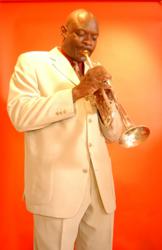 The energy generated by this concert will be a testament to the power of jazz and to Langston Hughes' literary legacy.
Edwardsville, Ill. (Vocus/PRWEB) March 04, 2011
"Ask Your Mama: Twelve Moods for Jazz," poet Langston Hughes' jazz poem-suite that was left unperformed at his death in 1967, will be presented Thursday, March 24, by the Ron McCurdy Quartet as part of the Langston Hughes Project: Jazz Montage: A Multimedia Concert Performance at Southern Illinois University Edwardsville.
It's all part of the 2010-11 season of SIUE's Arts & Issues series. For more than a quarter of a century, Arts & Issues has brought great performers and distinguished speakers to Southwestern Illinois. The multimedia event will appear onstage at 7:30 p.m. that Thursday.
The official media sponsors for A&I are the Edwardsville Intelligencer and KWMU-FM, while the series official hotel sponsor is Hampton Inn and Suites.
Arts & Issues Director Grant Andree said "Ask Your Mama: Twelve Moods for Jazz" is a kaleidoscopic homage in verse and music to the struggle for artistic and social freedom in the 1960s. "We're excited about bringing such an event to the Arts & Issues stage," Andree said. "The energy generated by this concert will be a testament to the power of jazz and to Langston Hughes' literary legacy.
"It truly is a creative masterwork."
Hughes' piece is a 12-part epic poem scored with musical cues drawn from blues and Dixieland, gospel, boogie-woogie, bebop and progressive jazz, Latin "cha cha" and Afro-Cuban mambo, German lieder, Jewish liturgy, West Indian calypso, and African drumming.
By way of videography, this concert performance links the words and music of Hughes' poetry to topical images of Ask Your Mama's people, places, and events, and to the works of the visual artists whom he admired or with whom he collaborated closely over the course of his career.
These words, sounds, and images recreate a magical moment in our cultural history, bridging the Harlem Renaissance, the post World War II Beat writers' coffeehouse jazz poetry world, and the looming Black Arts Movement explosion of the 1960s.
Though Hughes originally intended to collaborate with well-known jazz bassist and composer Charles Mingus, and then with pianist, composer and lecturer Randy Weston, the masterwork had not been performed by the time Hughes died in 1967. The piece promises to provides a galvanizing experience for the audience.
Tickets are $28; SIUE staff, alumni and retirees, as well as seniors, $25; students, $13. For more information or for tickets, call (618) 650-5774; tickets and information also are available through the Web site: artsandissues.com.
EDITORS: The 2010-11 Arts & Issues photos suitable for print are available at http://www.siue.edu/artsandissues/PhotoIndex.shtml
Other Arts & Issues events for 2010-11 include:
Simon Shaheen -- Thursday, April 14, 2011, 7:30 p.m., Meridian Ballroom (Morris University Center)
Shaheen brings his quartet to the Arts & Issues stage to dazzle the audience as he deftly leaps from traditional Arabic sounds to jazz and Western classical styles. His soaring technique, melodic ingenuity, and unparalleled grace have earned him international acclaim as a virtuoso on the 'oud and violin. Called one of the most significant musicians, performers and composers of his generation.
Ken Burns: "The Civil War" -- Wednesday, April 20, 2011, 7:30 p.m., Meridian Ballroom, Morris University Center
Sponsored by the SIUE Foundation, the SIUE Graduate School, and the St. Clair County Regional Office of Education through a federally funded Teaching American History Grant
Called "the most accomplished documentary filmmaker of his generation" by the New York Times, Burns has captured the imaginations of television viewers in unprecedented fashion, setting rating records and winning dozens of awards with his stunning historical documentaries. His first major work, The Civil War, is a moving presentation eloquently celebrating America's fascinating history and culture.
Arts & Issues and the SIUe Xfest present
500 Clown Frankenstein -- Saturday, June 4, 2011, 7:30 p.m., Dunham Hall Theater
Moving between planned elements and improvisation, this performance will leave its audiences excitedly uncertain as to what is and what is not planned. In each show, an innovatively designed set piece (with hi- and low-tech mechanics) propels the clowns into extreme physical behavior and rough-style acrobatics. Comic mayhem will be served abundantly to the Arts & Issues audience as our three clowns embark on a madcap journey to construct Dr. Frankenstein's laboratory.
Arts & Issues is a series of distinguished speakers and performers that supports the academic mission of the University. Students meet and discuss issues with renowned speakers in workshops, dinners, receptions and classes. Students in music, theater and dance work directly with visiting artists in master classes. Arts & Issues also gives students opportunities to gain experience in special events production, administration, fundraising and development.
SIUE offers the advantages of a small, liberal arts college with the low tuition rates of a state university. Our emphasis on undergraduate education, complemented by faculty research, creates practical applications for student learning. Located in the second most populated area of the state, this Illinois university draws students from all 102 Illinois counties, 42 states and 50 nations.
The SIUE College of Arts and Sciences combines foundational education with diverse and highly-specialized coursework. Faculty help students explore diversity of ideas, experiences and people while learning to think and live as fulfilled, productive members of a global society. The College offers 44 degree programs in the arts, humanities and social and natural sciences.
###