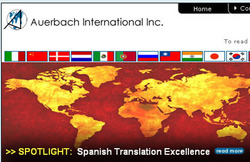 Translation is an art, not an exact science
San Francisco, CA (PRWEB) January 21, 2009
Auerbach International Inc., one of the foremost language translation and global marketing agencies in the United States, is discounting rates for all Spanish translations for the first quarter of 2009.
Drawing on its team of subject-specialized, native-speaking translators; quality-assurance reviewers (editors); and proofreaders, Auerbach International has been translating a huge variety of subjects into Spanish since 1990. Its top fields include healthcare, medicine, pharmaceuticals, dentistry, HR, legal, IT, telecom, energy, consumer products, industrial manufacturing processes, non-profits, government agencies, and many kinds of specialized technologies.
Prices start as low as .18 per word, with discounts for repeated terms within the same .doc or compatible file and from previous projects. This reduced rate applies to websites, manuals, brochures, press releases, sales sheets, specifications, directions, info sheets, scripts, Flash file texts, and all other types of documents.
All Spanish translations are acculturated for the respective target audience: Spain, Mexico, US Hispanics, General Latin America, Puerto Rico, Argentina, etc. This kind of attention to detail is part of the Auerbach Advantage.
"Translation is an art, not an exact science," says Philip Auerbach, founder of Auerbach International. "At Auerbach, we work as a team to achieve the greatest possible success for our clients. We welcome their partnership."
Auerbach International remains the sole North American language agency to be three-time winners of the ValueStar Award for client satisfaction. The company has won rave kudos for its Spanish translations, and offers everything from Afrikaans to Yiddish translation.
"Other companies might claim to provide service like ours, but we can prove it," says Auerbach. "We guarantee the quality and the end result of our services."
The firm also provides full desktop publishing, interpreting, voiceovers, dubbing, cultural assessments, surveys, interviews and market penetration strategies.
For free quotations and discount analyses, please send your file to Auerbach International, specifying your desired Spanish dialect, other languages, and desired deliverables such as full Spanish layout.
For more information, visit Auerbach International.
About Auerbach International, Inc:
Auerbach International, Inc. offers both full-service translation and interpreting and global marketing services. Auerbach International specializes in more than 80 world languages and they are the United States' only language agency to win the award for client satisfaction for three consecutive years from ValueStar. Their global marketing services range from surveys and interviews with customers in other countries to customized research and penetration strategies from some of the world's top experts.
###