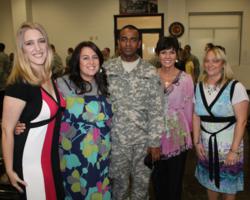 When I fight for America, it doesn't matter what religion the bad guys are. Every religion has good people and bad people. Some people are going to hate us. That's their problem.
North Little Rock, AK (PRWEB) May 17, 2011
When Mohammed Fuwad Hossain decided to serve in the National Guard, he had two obstacles in his way; a limited knowledge of reading and writing in English and no high school diploma.
Hossain moved with his father, mother and three brothers to Detroit in 2003 from the capital city of Dhaka, Bangladesh. He attended middle school, and nearly completed high school when personal and family issues forced him to drop out of school and find employment.
At age 17, Hossain took a job with Cargill Meat Solutions in Schuyler, Neb., as a meat packer. After seven months on the line, Hossain decided to try to go back to high school, but was beyond the maximum age to reenter. Instead, he took his high school transcripts and convinced admissions to admit him as a student at Central Community College.
After completing a year of classes, Hossain wanted to become an engineer and pondered how he would pay his way through college. His father struggled to support his family in Detroit as a taxi cab driver and he knew he would have to find another way. Hossain visited a Nebraska Army National Guard Recruiting office and learned about how he could take advantage of federal and state tuition assistance along with the Montgomery GI Bill. Better yet, Hossain would have a chance to earn his GED and a second chance to get his life on track.
Hossain faced ridicule from fellow Muslims accusing him of wanting to fight his own people. "That offends me a lot," said Hossain. "When I fight for America, it doesn't matter what religion the bad guys are. Every religion has good people and bad people. Some people are going to hate us. That's their problem."
Hossain continued with the enlistment process, clearing his physical and scoring well on the Armed Services Vocational Aptitude Battery test. He was sworn into the National Guard and shipped in April 2011 to the GED Plus program at Camp Robinson in North Little Rock, Ark.
Hossain's first day of classes provided GED Plus training analysts with a barometer of his knowledge and usage of the English language. GED Plus Training Analyst Robyn Rektor said the first few days is a critical time to identify students' unique learning needs.
"When he entered the classroom, he was already on my radar," said Rektor. After turning in his first writing assignment, she assembled a team of reading and writing lab instructors who had success with non-native speakers.
Hossain failed the first GED examination and fell short in reading. By the next test, he rose his score by 30 points but still was short of passing. "After the second time I failed the GED test, I got scared," said Hossain. "Something is wrong, I think. The teachers said I didn't want to test again until I was ready."
It was then that Rektor decided a different strategy and extended him in the learning lab for intensive one-on-one learning. If a student fails for a third time, they are sent home from the program and have to wait until the next calendar year to test again.
"They all gave me a lot of personal time in the lab," said Hossain. "Ms. Tootie Wright and Ms. Carolina Grober helped me with reading. After my second test, I saw that I passed reading and I failed writing. It kind of shocked me, because the subject that I was most concerned about was reading."
Hossain took his third and final test May 12, scoring a 520 on the GED examination. The writing section contained 50 editing questions and a 45-minute essay test.
Writing instructor Misti Harper worked with Hossain and was proud to see him do well on the test. "When English is your fourth language, it can be challenging," said Harper. "He wanted to become a soldier more than anything."
"The GED Plus program is fantastic," said Hossain. "I'm not going to lie about it. This is the best thing that the government can spend money on. Because kids like me…at least I have hope now."
Hossain is currently at Fort Jackson, S.C., for basic training and will attend advanced individual training at the Joint Culinary Center of Excellence at the U.S. Army Quartermaster School in Ft. Lee, Va. He plans to return to his position at Cargill and pursue his college education.
"I'm pretty excited. It's not just me, but if any soldier wants to succeed in life, I would tell them to control their anger and fix their attitude. Trust me, it doesn't matter how strong you are, but if you control these two things, you will save your life on the battlefield. Control these things and you'll also have the best life possible."
Click here to access high resolution photos of Pvt. Hossain and graduation photos from the Defense Video & Imagery Distribution System:
###