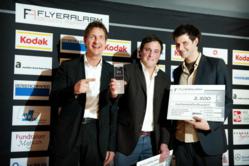 "Give a man a laptop and you will entertain him for some time, teach a man to teach via Skype and you will feed him for a lifetime." (Dr. Tobias Lorenz, Founder & CEO of Glovico.org)
(PRWEB) April 12, 2012
Glovico.org – the world's premier Fair-trade online language school – won the Underdog 2012 Award which is bestowed by Europe's largest online printing service Flyeralarm with outlets in several European countries and 1.500 employees. The award which is endowed with a cash prize of 2.500 € was handed over during a gala reception on March 24th 2012. Connected to this designer Tim Binder was also awarded a prize for a poster he had created for Glovico. Tanja Hammerl, CEO of Flyeralarm, says: "We are proud to include the new category Underdog in our Award because it allows us to help a young innovative organization in the social sector to increase its visibility."
Foreign language mastery requires time and practice. Most importantly, it requires a skillful teacher, and nobody can be as skilled in a foreign language as a native speaker can. The online classes also create a positive learning environment where the teacher interacts with each student personally. Glovico.org does away with the need for searching for a suitable native speaker and travelling back and forth for the classes. Its founder, Dr. Tobias Lorenz, says, "Traditional methods of language-teaching are not very effective, because it fails to create an interactive environment for the students. After all, we all learn our native tongue by interacting with others. Our online learning center aims at creating such an interactive environment so that students can learn a language better. The practical approach of our training helps in building confidence among our students as well."
The internet is a unique medium through which people can interact and talk to each other conveniently from any place and in real time. Glovico.org utilizes the power of the internet, and Skype in particular to go beyond the traditional textbook-oriented method of teaching and make language learning an easier and more enjoyable experience. Prospective students can visit Glovico.org, easily select their language, and search for an appropriate teacher according to their location, price, and availability, among other things. In other words, students are given the freedom of choosing their own teachers (even for rarer languages like Swahili or Thai).
Another major benefit of learning languages through the Glovico.org program is that it allows teachers to create a specialized program for each student. Not every student may be able to grasp a language as quickly or easily as others. Some students may learn better through a different method. With the one-to-one teaching method offered by Glovico.org, tutors can understand the kind of training each student needs and teach them accordingly. Teachers can also customize the learning program to suit the schedule of students so that they can learn at their own pace without sacrificing any of their personal requirements. Whether you are looking for an online Spanish tutor or you wanted to learn Tagalog: at Glovico every lesson is tailored to your needs.
Glovico has been launched in 2010 and currently overs language tutoring in more than 25 languages with more than 30 teachers. It is based in Hamburg, Germany, and New York, USA.