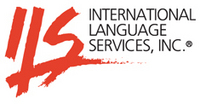 The steps to successful translating: Writing for translation and choosing your translator
Minneapolis, MN (Vocus) March 2, 2010
A white paper from International Language Services discusses the elements required for accurate translation of engineering, government, legal, manufacturing, medical and many other professional documents. Titled "The steps to successful translating: Writing for translation and choosing your translator," the paper is available for download from http://www.ilstranslations.com/success.
According to the white paper, a successful translation will convey the same meaning as the source original, whether it's a product or policy manual, technical document or marketing brochure. Understanding the target audience and the country's communication style, as well as creating standardized text, also ensure a successful translation.
About International Language Services
International Language Services, Inc. is a multi-language translation, localization and formatting company that has been serving mid-size and Fortune 500 companies since 1982. ILS provides hands-on project management team support and translators with a wide range of industry-specific knowledge. With translation memory software, ISO certification and access to translators for any language and business application, ILS consistently produces translated documents that generate intended results. For more information, visit http://www.ilstranslations.com or contact Barb Sichel, International Language Services, 5810 Baker Road, Suite 250, Minnetonka, MN, 55345. Phone: 952-934-5678. Fax: 952-934-4543.
# # #