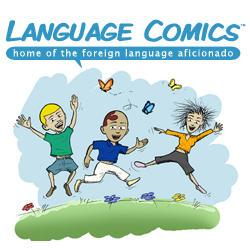 Our unique integrated translation feature helps readers follow along.
Houston, TX (PRWEB) June 02, 2011
Based in Houston, TX, Lanzo Publishing LLC announced today the first educational online comic series that caters to foreign language learners.
http://www.LanguageComics.com helps French and Spanish learners reinforce and expand their vocabulary base. They subscribe to a comic series, which unlike others found on the web, is created with the foreign language learner in mind. However, for full enjoyment, it is recommended that subscribers have taken enough classes to be able to read at beginner level.
Members have access to new episodes posted regularly in the language of their choice. Lanzo Publishing LLC decided that fresh content delivered over time would better serve the purpose of perpetual learning than a one time publication would. At this point, the target languages offered are Spanish and French. In order to help struggling readers follow along, a handy interactive translation feature is made available to them. Only "tricky" words or expressions are translated to English.
Classes are easy to find and self teaching resources are abundant in different formats. The challenge is in retaining and perfecting the base acquired in class. "Most folks I meet have taken a foreign language in high school or college and sadly admit that most of it is long gone," says Andy Lelo, storyteller for LanguageComics.com. "We want students to build confidence and learn at their pace as they read non-academic material at leisure. It is always encouraging to them to find real life applications for content acquired in the classroom. Reading and learning on their own away from school helps justify their foreign language class," Lelo adds.
By combining the entertainment value of the comics and the educational support they provide, LanguageComics.com aims to reach more then visual learners. "Our objective is to become a tool of choice for motivated learners who seek to maintain an ongoing relationship with their target foreign language that will outlast their classes," says Lelo.
# # #