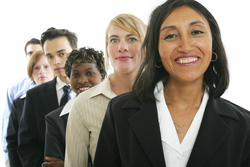 Obviously, the overall client experience is another component for buyers of language service
Washington, DC (Vocus) September 29, 2009
Language Learning Enterprises, Inc (LLE®), a leading, international provider of foreign language interpretation, translation, and language testing services, released the results of its client survey underscoring motivation and market demands relating to buyers of language services and the communication options with limited English proficient individuals. The survey results concluded that simple, cost-effective, pay-as-you-fee structures, and dedication to customer service and account management, rank among the highest utility for buyers of language services.
"LLE's survey measured service, delivery and customer experience attributes," stated Kathleen K. Diamond, LLE's CEO and President. "Our results clearly portray how our clients are keeping their standards high even during challenging economic conditions."
Over seventy percent (70%) of respondents indicated that offering a pay-as-you-go fee structure was an important deciding factor when selecting LLE as their language services provider. "Our clients have always enjoyed the freedom LLE offers with our language support," admits Diamond. "From LLE-LINK®, our telephone network that provides 24-hour access to professional, experienced, and LLE certified language interpreters supporting over 150 different languages, to our document translation and language testing services, we are proud to offer no-cost set-up, no hidden fees, and competitive pricing."
According to the U.S. Census Bureau, about twenty percent (20%) of the nation's population, or over 56 million individuals, are classified as having limited ability to speak or understand the English language. "This demographic represents a challenge in the way organizations, of any size and location, conduct daily business. Organizations need to be able to provide fair and equal access to their products and services - whether it is the need for medical care, retail customer service or complex financial translations. Being able to communicate in the language of your customer not only secures current business, but can open the door for marketing and referrals within the multicultural marketplace," Diamond says.
LLE reports that many of its current clients switched from previous language interpretation and translation firms to LLE due to the pay-as-you-go feature, specifically for their over the phone interpretation product. On a daily basis, LLE polls its buyers as to why they are currently shopping for language services. The majority express the desire to have a professional language resource without unnecessary or extra costs.
Additionally, nearly eighty percent (80%) of respondents from the language firm's survey reported that dedicated account management and customer service was most important when selecting language service vendors. LLE's clients are supported by multiple personnel, including 24-hour customer care representatives, account managers, quality assurance, and client relations staff.
"Obviously, the overall client experience is another component for buyers of language service," adds Diamond. "As a company connecting languages and cultures, we have an obligation to ensure that our clients know how to work with a professional language interpreter or translator, and that our linguists are educated and versed in both industry and client-specific terminology. Additionally, we provide tools and training, including online language trending and reporting based on each customer, and in-language marketing materials so our customers and their limited English proficient market are aware of the language resources that are available."
Diamond, who speaks English, French and Spanish, founded LLE in 1979 and immediately began providing language instruction to the U.S. Government. Today, LLE helps customers in government, telecommunications, financial services, and healthcare communicate with individuals who do not speak or understand the English language.
For more information, call (877) 405-8764, extension 213; or visit http://www.lle-inc.com.
About LLE:
Language Learning Enterprises, Inc. (LLE®) is recognized as the leading provider of technology supported language solutions to government, telecommunications, financial services, medical, and other customers around the world.
Utilizing an integrated community of over 3,000 experienced linguists, specializing in over 150 different languages, managed by dedicated language professionals, LLE delivers accurate and reliable telephone and face-to-face interpretation, document and e-mail translation, language instruction, language proficiency testing, and skill assessments.
LLE is celebrating its 30th year of recognition as a leading language services provider. LLE is a woman-owned, WBENC certified business with headquarters in Washington, DC, and a language technology center in Winchester, VA.
For more information, including media inquires on LLE, the impact of non-English speakers, or the entrepreneurial journey of Kathleen K. Diamond, call 877.405.8764 extension 213.
About Kathleen K. Diamond:
Kathleen Diamond is the President and CEO of Language Learning Enterprises, Inc. (LLE®), and is recognized across the world as an expert in the language industry as well as in global entrepreneurship. Under her guidance, LLE has grown from a sole proprietorship to a dynamic corporation serving thousands of government, business and non-profit organizations across the globe.
Ms. Diamond is a former officer of the National Association of Women Business Owners and served as a representative at Femmes chefs d'entreprises mondiales (FCEM) World Congresses from 1990 to 1997. In 1999, she received the FCEM Lifetime Achievement Award for Woman Entrepreneur of the World.
Currently, she is on the Board of Directors of the Center for Women's Business Research and serves as the Chair of the Task Force on Medical Interpreter Certification for the Association of Language Companies (ALC). She is very active in Women Impacting Public Policy and the U.S. Interagency Language Roundtable. As an advocate for the national certification of medical interpreters, Diamond serves as a commissioner for the Certification Commission for Healthcare Interpreters (CCHI).
###