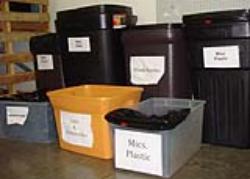 ...recycling is by far the best bang for the buck if a company is looking to go green.
Los Angeles, CA (Vocus/PRWEB) December 02, 2010
According to the Clean Air Council, about one-tenth of all garbage in the United States gets recycled. Lanyardstore.com, a lanyard manufacturing and printing facility in Los Angeles, wants to help change this statistic. The company boasts a completely trash-free warehouse, recycling every single item they use.
Company President Augie Pella claims that it's actually a relatively easy process. "Americans have become complacent about throwing everything into one trash can, but recycling is by far the best bang for the buck if a company is looking to go green."
The Lanyardstore.com 40,000 sq. ft. warehouse would normally produce a lot of trash as a byproduct of their manufacturing and printing of various lanyards, neck wallets, ID badge holders and other disposable ID products. In addition to these ID products, they also manufacture and print low cost strap products such as printed shoelaces, pet collars, and safety straps, all of which would typically produce massive amounts of waste.
The company set up recycling bins for every category of item they use. "We don't have any trash cans; we have scratch paper piles and recycle bins," explains Pella. "We even use shredded office documents instead of Styrofoam peanuts."
In the initial transition of becoming trash-free, Lanyardstore.com did encounter a few obstacles. Items were being thrown into the wrong bins and the warehouse became infested with ants from food-related trash. "We solved those problems and once we ironed out all the 'bugs,' things have gone smoothly," Pella says.
Expanding their eco-friendly efforts, Lanyardstore.com embarked on a program they call "Million Lanyard Give," through which they donate extra and overrun lanyards to non-profit organizations. They also use excess ink to print lanyards for donations.
The company's efforts have a larger impact than one might think. The Clean Air Council reports that just one ton of paper from recycled pulp saves 17 trees, 3 cubic yards of landfill space, 7,000 gallons of water, 390 gallons of oil, and enough kilowatt hours to heat a home for a half year.
Pella hopes that other companies will follow Lanyardstore.com's example. He points out that recycling offers financial rewards too. "We save about $1400 a year in trash collection costs right off the top. In addition, every two weeks, someone in our office pockets an extra $100 or so by taking the bins to the recycling facility, which makes them happy."
To learn more about recycling in your area, visit earth911.com. Schools, churches or other non-profit organizations may sign up for Lanyardstore.com's Lanyards Donation program by visiting their website.
About the Printed Lanyards Store:
Lanyardstore.com began selling lanyards in 1997, and shortly thereafter formed the website http://www.lanyardstore.com, which sells personalized lanyards and other ID products, printed neck wallets, custom badge holders and retractable badge reels. The online company also prints custom shoelaces, pet collars, dog leashes and child safety straps.
# # #