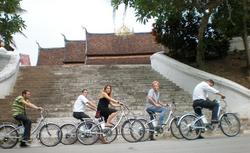 Bangkok, Thailand (PRWEB) March 3, 2010
Exotissimo Travel, the leading destination management company is Southeast Asia, is pleased to announce the launch of a new Luang Prabang itinerary that blends charitable excursions with unique, eco-friendly sightseeing tours.
The five-day Luang Prabang Charitable Tour is designed to have a minimum impact on the environment as well as make a positive impact on the Lao people. To accomplish this, the Exotisimo team has incorporated eco-friendly excursions, visits to local charities and unique cultural experiences into the tour. The program features petanque games with locals and a traditional baci blessing ceremony to offer travelers understanding and appreciation of the Lao culture and lifestyle. A full day will be spent exploring the World Heritage listed town on an emissions-free electric bike.
Moving beyond the city center, this Laos tour also includes excursions to the beautiful rural areas around Luang Prabang. One afternoon features a half-day cruise along the Mekong River to the Pak Ou Caves and another morning is spent at the stunning Kuang Si Waterfalls amid the leafy jungles.
Throughout this program, Exotissimo has interspersed many opportunities for travelers to make a positive impact on the local communities. Besides visiting non-profit organizations such as the Traditional Arts & Ethnology Center and Ock Pop Tok, they can make a personal trip to rural villages to donate books to underprivileged youth and lend a hand to wildlife conservation efforts at a sunbear rescue center.
"Travelers looking to experience a meaningful holiday in Laos will find this tour a perfect fit. Not only do they get to discover Luang Prabang through low-impact touring, they will be rewarded with authentic cultural insights and appreciative smiles of the friendly locals," said Henry Fenner, General Manager of Exotissimo Laos.
For travelers interested in longer programs with an emphasis on responsible tourism, Exotissimo can also arrange charity challenges to raise funds for local charities or their selected causes.
To learn more about Luang Prabang Charitable Tour, visit Exotissimo Luang Prabang Charitable Tour
To discover Exotissimo Travel Laos Tours Collection, view: Exotissimo Laos Tours Collection
To learn more about Exotissimo's responsible tourism philosophies, view: Exotissimo Responsible Travel Policy
About Exotissimo Travel
Exotissimo Travel is a premier destination management company that specializes in tailor made tours in Vietnam, Thailand, Cambodia, Laos, Myanmar and Indonesia. Established in 1993, the company is now a network of 17 locally-based offices staffing over 500 travel professionals, with sales offices in San Francisco, Paris, Berlin, Barcelona and Sydney. For more information, please visit Exotissimo Travel
# # #