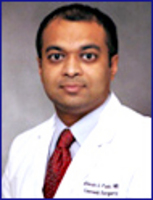 Developing that name and reputation has been a joy, it's an honor, it's God's grace
San Antonio, Texas (Vocus) July 14, 2010
Texas Bariatric Specialists is pleased to announce that Newsweek Magazine's April 11th issue featured Dr. Nilesh A Patel MD as one of the Best Bariatric Surgeons in Texas. The feature discusses the success and philosophies of Dr. Patel in a full page feature.
"Developing that name and reputation has been a joy, it's an honor, it's God's grace," says Dr. Patel in Newsweek Magazine.
In the piece Dr Patel surprised everyone when he reveled that he has added a second fellowship-trained bariatric surgeon to his practice. "A fellowship-trained bariatric surgeon gives the patient the absolute best in service and safety, I would never have done it any other way" says Dr. Patel.
Weight loss surgery is not for everybody and one has to commit to it with their whole mind, body and soul. If you were to choose to continue the surgical weight-loss, Texas Bariatric Specialists remains one of your best sources for help in South Texas. Their lifelong follow-up program, surgical expertise featuring Fellowship trained surgeons and dedicated practice to weight-loss surgery set them apart from all other groups in Texas. The primary focus of the practice is minimally invasive weight loss procedures including Lap Band Surgery (vs Gastric Bypass ), Laparoscopic Adjustable Gastric Banding, Laparoscopic Sleeve Gastrectomy (Lap Sleeve or Gastric Sleeve) , and Laparoscopic Revision of Failed Weight Loss Surgery.
Texas Bariatric Specialists offer convenient Bariatric Center locations for Lap Band Surgery in San Antonio and throughout Texas in the following locations – San Antonio, Austin, Corpus Christi, Killeen, Temple, New Braunfels, Seguin and Del Rio. You can contact Texas Bariatric Specialists for any details regarding the surgery, or questions about the financial requirements for the surgery via their website http://www.texasbariatricspecialists.com .
# # #