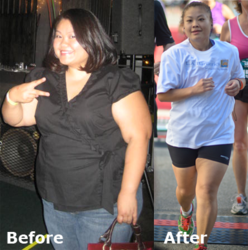 I am proof change is possible. After three years, I believe it. Hua Herr
Los Angeles, CA (PRWEB) February 27, 2012
Two photos tell the tale: one of a dangerously overweight woman, the other of an athlete. It's surprising to learn that the pictures are of the same woman.
On Feb. 5, Hua ran the Run for Russ 5K in Chino Hills. This was her tenth 5K in 12 months. Over the past year she also completed two 10K races, four half marathons, and one full marathon, exceeding her original goal by 5 races.
At her heaviest, Hua weighed 248 pounds. Activities as simple as walking fatigued her. Her health was beginning to suffer.
"I didn't believe I deserved to be happy because I was morbidly obese," said Hua. "I blamed my weight for every disappointment in my life."
When Hua finally decided it was time to get her happiness back, she turned to Marina Del Rey Hospital's bariatrics unit, L.A. Bariatrics. Her goal: to shed one-half of her body weight.
On Feb. 9, 2009, Hua had the lap-band surgery performed by bariatric surgeon and Medical Director, Dr. Jeremy Korman. For the first year, Hua stuck closely to her diet and exercise regimen, while using the lap-band to help her to control her hunger and portion size. She also started thinking positively, affirming things she appreciated about her own body.
As the weight came off, Hua gained confidence and pride. She grew even more optimistic, and started running, something she would have never considered prior to surgery.
After 12 months, Hua had lost 100 pounds and was beginning to realize anything was possible. She made up her mind that in year two she would run one race every month.
"I did not realize that making the decision to have the lap-band surgery would change my life so dramatically," she wrote.
"The starting line may have been the operating table," said her surgeon, Dr. Jeremy Korman, "but it was Hua's determination that enabled her to go the distance in getting her health back. My staff I and I couldn't be more proud of her."
Dr. Korman, Hua and several more successful weight loss surgery patients from Marina Del Rey Hospital ran the Los Angeles Half Marathon together this fall.
Hua will run her second full marathon in March and is currently setting her sights on completing a triathlon in 2012.
"If I can mentally endure the physical challenge, there isn't anything I can't do," said Hua . "I am proof change is possible. After three years, I believe it."
About Marina Del Rey Hospital
Marina Del Rey Hospital in Los Angeles is a boutique surgical hospital focusing on bariatric, spine, orthopedic, and minimally invasive surgery. The multidisciplinary medical team at L.A. Bariatrics, the bariatric surgery program at Marina Del Rey Hospital, offers patients excellent care. As a Bariatric Surgery Center of Excellence, this weight loss center meets high standards for experience in bariatric procedures and inpatient care.
About L.A. Bariatrics & Dr. Jeremy Korman
Dr. Jeremy Korman is the medical director of L.A. Bariatrics and a leading expert in the field of bariatric medicine, and he has successfully performed over 1,000 weight loss surgical procedures on patients from all over the United States. Dr. Korman and his multidisciplinary team focus on helping patients to realize their weight loss goals and achieve better health. L.A. Bariatrics, located at Marina Del Rey Hospital, is certified by the American Society of Metabolic and Bariatric Surgery as a Bariatric Surgery Center of Excellence, confirming that its staff has extensive, specialized experience and that the facility has passed rigorous inspections. The L.A. Bariatrics team combines exceptional surgical outcomes with nutritional, psychosocial and exercise support for all patients within the program.
###