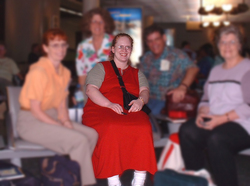 More than ever, Lap-Band has become the safest, least invasive, most successful option for hundreds of thousands suffering from weight-related ailments and low quality-of-life __title__ Spontaneous Diabetes Remission with Lap Band Procedure iVital 60 Minutes]
Dallas/Ft. Worth and Plano, TX (PRWEB) June 11, 2008
As the Lap-Band® gastric banding procedure quickly becomes the most popular, safe and effective solution for hundreds of thousands suffering from weight-related symptoms and 30 or more pounds of unwanted fat to lose, iVital issues a warning and offers expert advice to improve the success rate for all Lap-Band recipients.
Texas recently has emerged as the hub for weight loss surgery, especially in Dallas, Fort Worth, and Plano. Leading in unparalleled patient care before, during and well after the outpatient Lap-Band procedure, iVital cautions all prospective patients about making a final decision without all the facts.
"More than ever, Lap-Band has become the safest, least invasive, most successful option for hundreds of thousands suffering from weight-related ailments and low quality-of-life," said iVital Medical Director Dr. Theresa Garza. "It's crucial to understand all the facts before you make a final Lap-Band decision. Mistakes patients report include misunderstanding the full ramifications of seeking procedures in Mexico, being wrongly pushed toward gastric bypass, procrastinating with fad diets, dealing with insurance delays and unexpected denials, choosing the cheapest option rather than a center known for its patient care, and failing to request payment plan options."
"If I knew then what I know now," is a regular mantra among patients who seek medical procedures without first getting answers to vital questions. iVital, known for its unparalleled and compassionate patient care, is committed to improving the success rates for all Lap-Band patients by making the "Before You Decide" Lap-Band Questions Checklist available to anyone seeking information about permanent weight loss options.
iVital "Before You Decide" Lap-Band Questions Checklist:

How comfortable am I leaving America for Mexico to have a medical procedure? And how frequently can I afford to return to Mexico for evaluations, regular check-ups and necessary adjustments to optimize the performance of my Lap-Band?
Knowing diets fail more than 95% of the time, do I want to continue investing time, money and emotion into yet another diet book, group or fad?
Do I have countless months to wait on insurance bureaucracy and uncertain coverage before beginning the process of losing weight?
Would a Payment Plan make sense?
Do I go with the lowest priced Lap-Band offer or invest in unparalleled patient care to ensure a successful outcome?
iVital believes patients who've "done their homework" will have the greatest Lap-Band success rates for permanent weight loss. In that spirit, iVital offers information-packed, Permanent Weight Loss Seminars at Willow Bend Wellness Center on Monday at noon and Thursday evening at 6:30 p.m. Spouses/Friends are welcome and encouraged. To best accommodate and serve guests, iVital requires advance reservations. Seminar reservations are made online at http://www.iVital.com or by calling 214-347-4434.
iVital Permanent Weight Loss Seminars--What to Expect:

Meet iVital's Medical Staff and Dedicated Team
Talk to Local Weight Loss Successes--They Know Exactly What You're Going Through!
Learn the Biggest Mistakes to Avoid and the Secrets to a Successful Lap-Band Procedure and Permanent Weight Loss.
Your Most Vital Questions Answered: Lap-Band, Gastric Bypass, Bariatric Surgery Statistics, Mexico Surgeries, Insurance, Diets, Weight-Related Symptoms, Which Weight Loss Solution is Best for Me?
Plus, Qualify for a Personal, Discreet and Complimentary "iVital Diagnostic Evaluation" Based on You! Free, Limited Time Offer. (a $400 Value)
A recent poll of Lap-Band recipients revealed that 83% said having the Lap-Band procedure "was the best thing I've ever done for myself." Many had the procedure so recently, they still were making up their minds. Fewer than 3% regretted their decision.
The ideal Lap-Band candidate who is most likely to succeed in losing excess weight for good has 30 or more pounds to lose and may be suffering weight-related symptoms including diabetes, high blood sugar, infertility, high cholesterol, high blood pressure, hypertension, breathlessness, orthopedic problems, sore feet, aching back, weak knees, sleep apnea, gout, low energy, fatigue, diminished self-esteem and stubborn excess weight. (As reported in the Annals of Internal Medicine: With integrated patient care, 98% of Lap-Band® patients studied lost 87% of their excess weight--and kept it off.)
About iVital | Weight Loss, Life & You!
Inspired by our passion to improve lives'
we are committed to partnering with each patient to achieve sustained weight loss through personalized' superior care. iVital is dedicated to helping individuals lose their excess weight and keep it off with customized solutions built around the Lap-Band®. iVital has tailored this procedure and a continuum of customer-centric aftercare for the millions of Americans who want to improve their health and look and feel their best - for life. http://www.ivital.com
###