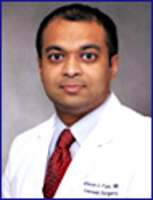 San Antonio, TX (Vocus) September 3, 2010
One of the most succesful Lap Band Surgery Practices in Texas just got larger. Texas Bariatric Specialists now performs Lap Band Surgery in San Antonio, Austin, Corpus Christi, Killeen, Temple, New Braunfels, Seguin and its newest office in Boerne.
Dr. Patel is a nationally recognized, fellowship-trained, minimally invasive surgeon. His practice specializes in both advanced and basic laparoscopic (minimally invasive) procedures and is proud to announce its newest office in Boerne, Texas.
The Boerne Integrated Weight Loss Center will not only serve the Boerne neighborhood but also the entire Texas Hill Country area. Staffed by some of the most experienced professionals on weight loss in the country their team will assist Hill Country residents in all of their medical and potential surgical weight loss needs.
The primary focus of the practice is minimally invasive weight loss procedures including Lap Band Surgery, Gastric Bypass Surgery, Sleeve Gastrectomy , and Laparoscopic Revision of Failed Weight Loss Surgery. The practice delivers outcomes which exceed national averages of weight-management success due to a commitment to surgical expertise, compassionate care, and exemplary pre- and post-surgery consultative services.
Dr. Patel offers 'Given that obesity is a multi-factorial disease, we recognize that an all encompassing approach is most effective in regaining your health and reclaiming your life'.
###