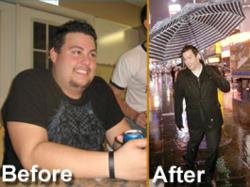 There is no reason why I should be this unhealthy
San Antonio, Texas (PRWEB) May 08, 2013
Dr. Nilesh A. Patel of Texas Bariatric Specialists (TBS) announced today that patient, David Cruz, has achieved his ultimate goal of becoming a healthier version of himself. Gastric Bypass Surgery has rid him of all diabetes and high blood pressure symptoms with the assurance of keeping his health for the sake of not only himself, but his parents.
David Cruz's struggle with weight started when he was diagnosed with severe asthma at age 5. Even though he always tried to stay active by participating in football and basketball, he was still overweight. Once it was time for David to go to college, he started gaining weight rapidly because he didn't have family or friends around to tell him that what he was putting into his body was not good for his health. He wasn't a big breakfast person nor cooked his own food, so he would go all day without eating and then binge on junk food at night.
The constant binge-eating lead to David being diagnosed with type II diabetes and high blood pressure. At the young age of 21, he was put on the highest dosage of medicine for his conditions and began having problems with his pancreas. At this point, David was scared. "There is no reason why I should be this unhealthy," he said, "I don't want to not be able to take care of myself." On top of this scare was the thought of his parents' rough medical history. Thinking about his Dad's diabetes and high blood pressure and his Mom's muscle disease, David started looking up ways to cure his own diabetes and weight loss surgery came up as an option. "I have to make sure I am healthy for my parents," David said.
Before making the decision to find himself a weight loss surgeon, David tried many alternative methods to losing the weight including the Adkins Diet, various weight-loss pills, and eating a lot of salads. Nothing was beneficial. He only succeeded in rubber-banding back and forth and gaining more weight. At this point, David knew it was time to do something more.
He researched a few weight loss surgeons and attended a few seminars before stumbling upon Dr. Patel's team at Texas Bariatric Specialists (TBS). David saw Dr. Patel's great track record with all the work he has done and thoroughly enjoyed his experience attending one of the TBS weight loss seminars. He felt comfortable with the staff and knew that the path to Gastric Bypass Surgery was his next step.
After the surgery, David felt immediately different. He was so full of energy that he had to ask Dr. Patel the soonest he could start running before he even left the hospital! Once he was able to start working out, David lost the weight really fast. In the first 6 months, he lost 70 lbs. and had a whole new routine. He incorporated a lot of protein bars and shakes into his diet, cut out all sodas, and didn't eat anything with added sugar.
The biggest benefit of David's Gastric Bypass Surgery was that he never had to take medication for either of his conditions again. His diabetes and high blood pressure had subsided and he was healthy. "I don't know why they don't recommend weight loss surgery instead of insulin at the Diabetes clinic," David exclaims.
As his confidence continues to soar, David concludes with this point, "The goal in life is to be healthy. Physical appearance is just a bonus. People need to look at weight loss from a point of view other than vanity. I mean, who doesn't want to be healthy?!"
About Texas Bariatric Specialists
Founded by Dr. Nilesh A. Patel, MD, a nationally recognized and fellowship-trained bariatric surgeon, Texas Bariatric Specialists (TBS) is a holistic weight loss practice focused on delivering long-term weight loss solutions for patients. Dr. Patel specializes in surgical weight loss procedures including Lap Band, Gastric Bypass, Gastric Sleeve, Gastric Band, and the revision of failed weight loss surgery, which have resulted in over 2,500 surgeries exceeding the national average of successful weight loss management. With a commitment to surgical expertise, compassionate care and exemplary preoperative and postsurgical consultative services, Dr. Patel and his staff at Texas Bariatric Specialists ensure successful weight loss management for their patients through long-term relationships to support good health. Offices are located across major cities throughout Texas including San Antonio, Austin, Corpus Christi, New Braunfels, Seguin, Boerne, Kileen, Temple, Del Rio and Laredo. For more information, or to book a free informational seminar, please visit http://www.texasbariatricspecialists.com.