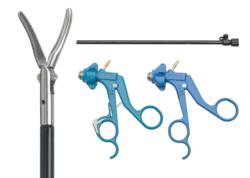 Stow, OH (PRWEB) June 27, 2013
Spectrum Surgical Instruments Corp. is pleased to extend its surgical instrument line to a comprehensive line of take-apart laparoscopic instruments for ease of maintenance. Consisting of only three components, the unique design allows for quick and easy disassembly for optimal cleaning and sterilization, with the additional benefit of visual and mechanical validation.
The instruments are lightweight and ergonomic for greater comfort and precise single-hand use. All patterns feature rotatable and detachable shafts with a luer lock flushing port connection. Individual replacement components are available and include your choice of multi-function ratcheted handle or standard non-ratcheted handle. Spectrum's take-apart laparoscopic instruments are available in many patterns with 5mm or 10mm diameters and working lengths of 36cm or 45cm.
For more laparoscopic instrument information, please contact a Spectrum Customer Care Representative at 800-444-5644.
About Spectrum Surgical Instruments
Spectrum Surgical Instruments has been providing a full line of surgical instruments for Human and Animal health since 1983. Spectrum is a leading provider of surgical instrument repair, sharpening and restoration. Spectrum Surgical provides surgical equipment to surgery centers and veterinary centers across the United States.
We have taken a leading role in the industry by providing free educational services about surgical instrument care. The goal is to educate those who come in contact with surgical instruments to ensure that all are aware of the impact they have on patient safety. Our commitment to quality has led us to increase our quality systems and improvement initiatives. We work directly with customers and industry leaders to offer technology, preventative maintenance, and quality products designed to improve patient safety.