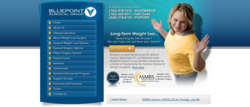 Washington, DC (Vocus/PRWEB) March 09, 2011
The Washington DC bariatric surgeons at Bluepoint Surgical Group will host a weight loss surgery seminar on March 12, 2011 to announce and explain the new qualifications for the LAP-BAND System®, which is now the first and only FDA-approved device for bariatric surgery in patients with a Body Mass Index (BMI) of 30-35 and one or more obesity-related comorbid conditions. The surgeons at Bluepoint say the new approval for the LAP-BAND System® means 26 million patients can now qualify for the weight loss procedure, and take the first step in achieving the healthy transformation they desire.
According to the annual data from the CDC Behavioral Risk Factor Surveillance System, the surgeons at Bluepoint Surgical Group say the new FDA-approved qualifications more than double the number of patients who can potentially pursue a popular bariatric procedure. While the new requirements for the LAP-BAND System® means this effective weight loss procedure will be available to more patients, the bariatric team at Blue Point Surgical Group stresses that any patient electing to have this type of surgery must make a commitment to accept significant lifestyle changes on a day-today basis for the rest of their lives.
Join the Bluepoint Surgical Group for the Free Weight Loss Surgery Seminar on Saturday, March 12, 2011 from 11:00 AM to 1:00 PM in the Fredericksburg Hospitality House – Palm Room, 2801 Plank Road, Fredericksburg, VA. Those hoping to attend can register online at http://www.potomachospital.com, or call (703) 221-2500, or 1-800-SENTARA.
About Bluepoint Surgical Group
The Northern Virginia and Washington DC bariatric surgery practice, Bluepoint Surgical Group, specializes in minimally invasive laparoscopic gastric banding and gastric bypass surgeries, as well as plastic and reconstructive surgery following dramatic weight loss. The surgical facility in which the surgeons operate is a designated ASMBS Bariatric Surgery Center of Excellence®, dedicated to providing a multi-disciplinary approach and exceptional patient care from the initial consultation to recovery and post-surgery support. With an extremely low complication rate of 5% in over 2000 operations, the surgeons believe they possess unparalleled experience and expertise in weight loss surgery.
Bluepoint Surgical Group has three locations: Fair Oaks Professional Bldg. 3620 Joseph Siewick Dr. Suite 200 in Fairfax, VA 22033, which can be reached at (703) 620-3211; the Woodbridge Professional Bldg. 2280 Opitz Blvd. Suite 320 in Woodbridge, VA 22191, which can be reached at (703) 878-7610; and the Stafford location at 125 Hospital Center Blvd. Suite 207 in Stafford, VA 22554, which can be reached at (540) 318-6135. The bariatric surgery practice can also be found online at http://www.bluepointsurgicalgroup.com, or the Bluepoint Surgical Group Facebook page.
###