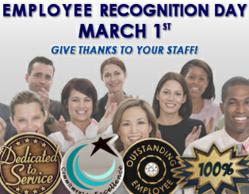 One of the most widely used and time honored traditions for employee recognition is a lapel pin.
Chicago, Illinois (PRWEB) February 26, 2013
One of the most widely used and time honored tradition for employee recognition is a lapel pin. Lapel pins can come in many forms and can either be custom designed or a business can select one of the many different styles of "years of service" pins available from a wide array of vendors. Custom lapel pins can be designed with your corporate logo, include gem stones, and even be made of sold gold. Many organizations choose to create a custom lapel pin because it offers the opportunity of branding and to further promote corporate pride and identity.
According to research by PinMart, Inc., organizations that give regular thanks to their employees far outperform those that don't. There is a $46 billion market for employee recognition and according to PinMart research shows that their customers spend between 1-2% of payroll on recognition items like lapel pins, watches, crystal, and travel.
An article written by Josh Bersin and published by Forbes notes: "Companies that scored in the top 20% for building a "recognition-rich culture" actually had 31% lower voluntary turnover rates! This is a huge statistic. Most CEO's would pay millions of dollars to reduce voluntary turnover (this is when good people leave on their own). It turns out that a well-designed recognition program can achieve this result."
Initiating an employee recognition program doesn't require a huge investment of time or effort. Essentially, all you need is a plan and the dedication to put it into place. One inexpensive and simple way to start is with Lapel Pins.
About PinMart: PinMart, Inc. is a privately held company located in Mount Prospect Illinois, a suburb of Chicago, specializing in the design and manufacture of lapel pins, emblems, embroidered patches, and emblematic jewelry. PinMart sells stock products via its online store and offers custom design and manufacturing. PinMart has taken advantage of its well positioned internet presence and now boasts a client list that includes over 300 of the Fortune 500 companies.