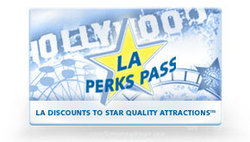 "Concierge positions have been the first to go when a hotel is looking to cut back on costs," commented Stephen LeRoy, former President of the Los Angeles Concierge Association (LACA) and a concierge who has recently been laid-off. "
Los Angeles, CA (PRWEB) March 16, 2010
One of the perks of staying in a hotel is getting the services of a concierge who can do everything from recommending the best restaurant to booking a day at the spa, all effortlessly and from a seemingly endless list of resources. But in this sparse economy and with hotel occupancy down 11% according to the California Travel & Tourism commission, hotels have started cutting concierge positions which means tourists are on their own for finding the best things to do in Los Angeles. "Concierge positions have been the first to go when a hotel is looking to cut back on costs," commented Stephen LeRoy, former President of the Los Angeles Concierge Association (LACA) and a concierge who has recently been laid-off. "Normally, a concierge would be your go-to person but unfortunately, due to the economy, not anymore."
Enter the LA Perks Pass http://www.laperks.com. Created by co-founders and entrepreneurs, Jonathan Rapoport and Trevor Parsons, along with the help of local concierges, the Perks Pass is a new upscale entertainment discount program for the Los Angeles area that is designed to help turn a hotel's cost center into a profit center. The goal of the LA Perks Pass is to do the opposite of what airlines are doing to stem the travel decline: while airlines are nickel and diming passengers for services that used to be free and are of no value to the traveler, the LA Perks Pass actually adds to travelers' enjoyment by saving them money. The pass is packed with over 100 exciting things to do around town and is available both online as well as at hotels in the Los Angeles area, which increases income to both the hotel industry and concierge staff. It's a true win-win.
And because many people are now planning "staycations" instead of vacations, Mr. Leroy thinks the pass will be popular with not only visitors but locals too. "Since the pass is good for one full year, locals can save repeatedly at their favorite restaurants, while tourists can take advantage of all the best local spots during their visit." He also believes the LA Perks Pass will enable hotels to keep more qualified concierge on staff because they will now be earning extra income for their hotel.
For a small upfront fee in the LA Perks Pass, locals can enjoy a night out on the town without breaking the bank and travelers planning a stay in Los Angeles can work within their budget. And despite the temporary reduction of concierge services, Perks Pass users can still experience all that the Los Angeles area has to offer while saving money and perhaps even give the local economy a much-needed boost.
About LA Perks LLC:
LA Perks LLC founded in 2010 in Playa Del Rey, CA provides premium perks to both tourists and locals in Los Angeles to the best entertainment and dining venues. The LA Perks Pass can be purchased from concierges at the top Los Angeles hotels or online at http://www.laperks.com. Visit http://www.laperks.com to learn more.
###