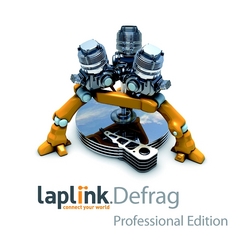 Newly added and modified files can be analyzed and defragmented whenever they are not being accessed. In effect, Laplink Defrag is always making sure your hard disk is performing at its peak
Bellevue, WA (PRWEB) September 30, 2009
Laplink® Software announced today that it has released its premier defragmentation program - Laplink Defrag. Based on award-winning technology already on the market in Europe, Laplink Defrag brings innovation, more customization, and greater efficiency compared to the competition.
"Laplink Defrag packs file fragments more quickly and more securely back together to optimize greater hard drive functionality. Plus, users can select from fully automated to individually customized settings - depending on the specific needs of the user," said Randy Clark, Laplink's COO.
The innovative background monitoring function also helps to prevent fragmentation at the source. This delivers more consistent defragmentation monitoring and keeps large defragmentation sessions to a minimum.
"Newly added and modified files can be analyzed and defragmented whenever they are not being accessed. In effect, Laplink Defrag is always making sure your hard disk is performing at its peak," explained Clark.
Standing out from the competition, some key features include: automatic protection from heavy defragmentation (background defragmentation), targeted defragmentation (by right-clicking hard disks and partitions as well as individual folders or files), file status display (which provides information about the number of the most heavily affected files and their level of fragmentation), and optimal speed and memory consumption (which results in Laplink Defrag performing fast even while demanding considerably little memory).
Laplink Defrag comes in three versions - Professional, Server, and Workstation, a network-capable version which can be installed with or without a user interface.
More Laplink Defrag Features:

Significant speed of defragmentation over competitors
Small system footprint for low memory consumption
Optimized for 32 and 64-bit versions of Windows Vista, Windows XP, and even Windows 7
Automatic background monitoring for ongoing system optimization
Right-click defragmentation of individual folders and files as well as hard disks and partitions
Automatic configuration after installation - no further involvement is necessary
Processing even enormous amounts of data - in the terabyte range - is no problem
Protection from excessive fragmentation (that normally builds over time) through background monitoring and defragmentation
Defragmentation of individual directories and files through the context menu
Optimized File Status View and enhanced Block View
Wizard for regular and automated defragmentation
Five different defragmentation methods - including OneButtonDefrag (for simple setting up of automatic defragmentation)
ActivityGuardPro keeps the system load balanced while the PC is in use (when a user logs off, Laplink Defrag resumes functionality)
Support of all Windows drives
Optional: ScreenSaver mode that defragments the hard drive while the screen saver is active
Prices & Availability
Laplink Defrag is now available in the Professional, Workstation and Server Editions. The full version of the Professional Edition is priced at $29.95. Server Edition is priced at $249.00 and Workstation Edition is available starting at $99 for five licenses.
Customers can purchase Laplink Defrag at Laplink.com and soon through major software retailers throughout North America.
About Laplink Software
For more than 25 years, Laplink has been the leader in providing software used for PC migration, remote access, file transfer, and synchronization. The privately-held company was founded in 1983 and is headquartered in Bellevue, Washington.
Laplink Software Press Contact
Daniel Donohoe, Public Relations
+1-425-952-6023
Additional information and images can be found online at Laplink's Media Center.
###