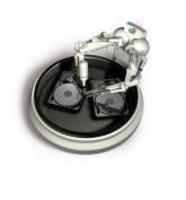 DiskImage is the perfect complement, or companion if you will, for PCmover. Using DiskImage, the old computer is preserved as an image and can be restored or accessed at any time in the future - giving users complete peace of mind.
Bellevue, Washington (PRWEB) October 22, 2009
Laplink Software announced today that it has released its premier disk imaging program - Laplink DiskImage. Based on award-winning technology already on the market in Europe, Laplink DiskImage brings innovation, more customization, and greater efficiency - improving greatly upon the standard technology already available in the marketplace.
"Laplink DiskImage offers reliable protection from unforeseen data loss by creating images and restoring entire systems quickly and easily," said Randy Clark, Laplink's COO. "With DiskImage, automated, as well as custom settings are available depending on the user's needs. Also, thanks to the Start CD (which includes additional system rescue tools) you can quickly have all your important data available again - even, if Windows fails to start up."
Users can choose from among various imaging methods such as a creating a complete, differential or incremental image. The creation of images can be scheduled in advance resulting in a completely automated process.
"With all the excitement surrounding Windows 7 and Laplink PCmover®, users would still be wise to create an image in advance of upgrading or moving to a new PC," continued Clark. "DiskImage is the perfect complement, or companion if you will, for PCmover. Using DiskImage, the old computer is preserved as an image and can be restored or accessed at any time in the future - giving users complete peace of mind."
A key feature of DiskImage is the ability to restore Microsoft Virtual Hard Disks (VHD) directly. Images created with Laplink DiskImage can also be directly burned onto any type of optical storage disk (CD/DVD/Blu-Ray/HD-DVD).
The Start CD, included with Laplink DiskImage, is based on the current version of Windows PE. This makes it possible to create images even if the operating system is no longer functional. Also, the unique DriverLoader feature lets users download drivers later that are not available immediately at startup.
Laplink DiskImage comes in two different versions - Professional Edition and Server Edition, which can be installed with or without a user interface.
Laplink DiskImage Unique Features:

Different imaging methods: When creating a complete image, choose between creating an image of the used data areas and a complete forensic image to guarantee a successful data restoration. An incremental or differential image saves a substantial quantity of space, since it only includes data areas which have been changed since the last imaging.
Restoring individual files: DiskImage image files can be mounted as virtual hard disks. Individual files can easily accessed and copied using Windows Explorer.
Virtual Hard Disc (VHD): DiskImage makes it possible to convert images from virtual hard disks (Microsoft Virtual Hard Disk or VHD) into image files of DiskImage (OMG) and vice versa. A virtual hard disk can be restored directly.
Visualizing data: The graphic display of the hard disk and drives - similar to the data management from Microsoft Windows - allows for an intuitive selection of the storage volumes to be imaged or to be restored. Free and used space, as well as the size of the individual partitions will be shown, which greatly facilitates the management of data.
Service and Job Status: The system tray icon integrates with the taskbar and supplies information on the status of services and jobs quickly (and without any complications), as well as the handling the overall status of DiskImage. At a glance, you can check on the completion of jobs, and possibly even prevent any unwanted cancellations.
Enhanced burn function: Laplink DiskImage supports all important optical storage volumes; all images can be burned on to CD/DVD/Blu-Ray/HD-DVD.
Additional compression types (BZIP): In addition to the existing compression type LZNT1, the compression type BZIP2 can be selected.
Prices & Availability
Laplink DiskImage is now available in the Professional and Server Editions, starting at $39.95 from Laplink.com and soon through major software retailers throughout North America.
About Laplink Software, Inc.
For more than 25 years, Laplink has been the leader in providing software used for PC migration, remote access, file transfer, and synchronization. The privately-held company was founded in 1983 and is headquartered in Bellevue, Washington.
For more information about this release, please contact:
Laplink Software Press Contact
Daniel Donohoe, Public Relations
+1-425-952-6023
Additional information and images can be found online at Laplink's Media Center.
###