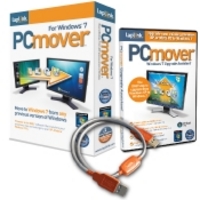 Service and support organizations as well as retail tech benches are utilizing PCmover to help their customers move to Windows 7 - because we make the upgrade process fast, simple, and affordable.
Bellevue, Washington (PRWEB) March 4, 2010
Laplink Software, Inc. and Enterprise Integration, Inc. today officially announced a partnership to provide Windows 7 upgrade services to enterprise clients throughout North America. Using PCmover's Windows 7 Upgrade Assistant technology licensed from Laplink, Enterprise Integration will now be able to quickly and easily assist their corporate clients in upgrading to Windows 7 regardless of their current operating system.
Enterprise Integration, an information technology solutions provider headquartered in Jacksonville, FL, has been providing proactive IT services since 1998. Their more than 180 IT professionals collectively represent more than 600 technical certifications and their client list includes CSX, Rayonier, Sea Star Lines, The Haskell Company and the Jacksonville Regional Chamber of Commerce.
The dilemma Windows XP users are facing often results in many users obtaining outside help to ensure their PC is upgraded quickly and without issue. Many users do not understand that Microsoft does not support an in-place upgrade from XP to Windows 7 and Microsoft actually recommends using an IT professional to accomplish the transition from XP to Windows 7.
"The various upgrade scenarios can be very confusing and frustrating for many people," explained Thomas Koll, Laplink's CEO. "And businesses, especially many smaller businesses, can view this quite negatively – especially with the amount of time and money associated with performing such an upgrade project on their own. Our objective has been to make upgrading to Windows 7 as easy and simple as possible, so users can get all the benefits of this new operating system – which is quite good – without the headaches that can often go along with upgrades such as these."
Enterprise Integration purchased Laplink's Ultimate Partner Kit – which includes 1,000 licenses of PCmover to more quickly and easily serve their corporate clients. With the software from Laplink and the Information Technology expertise of Enterprise Integration, businesses can look forward to adopting Windows 7 without all the hassle.
"We are a 24 X 7 technology workforce, we needed a tool that fit into our process model, not a tool we had to develop a process around. When multiple people are touching a desktop or laptop during a migration or upgrade you have to have a great process so nothing falls through the cracks," said Tracey Brown, Enterprise Integration's COO. "the PC Mover Tool combined with a great process reduced our onsite footprint, leveraged our service desk and improved consistency for the customer."
Versions of PCmover for Windows 7 include: Professional, Home, Netbook, and Upgrade Assistant. Not only is PCmover the only solution that moves applications automatically from an old PC to a new one, it is also the only way to upgrade your PC from XP to Windows 7. (The same process is also supported for upgrading to different versions of Windows as well).
The resulting reviews by industry press, like The Wall Street Journal, have been extremely favorable with PC Magazine giving the latest release of PCmover its Editor's Choice award. Customers can purchase any version of Laplink PCmover at http://www.laplink.com/pcmover or at most software retail stores and online retailers worldwide.
"Our ultimate goal is to see successful, rapid adoption of Windows 7," said Koll. "Service and support organizations as well as retail tech benches are utilizing PCmover to help their customers move to Windows 7 - because we make the upgrade process fast, simple, and affordable. We welcome Enterprise Integration in joining us and becoming part of delivering this solution."
Read More at the Laplink Blog
Read more from Enterprise Integration about their experience with the PCmover Partner Program at http://blog.laplink.com.
How to Join the Laplink PCmover Partner Program
The Laplink PCmover Partner Program is available for businesses to sign up and join online at http://www.laplink.com/partners/pcmover/.
About Enterprise Integration, Inc.
Enterprise Integration (EI) is a customer-service driven information technology solutions provider based in Jacksonville, FL offering proactive IT monitoring and management, managed outsourcing, security solutions and datacenter services. By focusing on innovative technologies that prevent IT problems, EI allows companies to focus on their core business goals. EI employs the industry's most experienced people, best practice methodologies and best of breed tools. To learn more, visit http://www.entint.com.
# # #