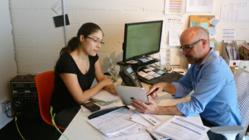 With iPads in hand, the leasing agents at Madison do a great job screening tenants and completing the necessary paperwork. They take the work off of our plate and are leasing our units to qualified applicants.
- Tiara Street Properties
Los Angeles, CA (PRWEB) May 10, 2012
Property management for multifamily housing and commercial properties being serviced by The Madison Real Estate Group now have access to immediate high tech solutions that will save them time and reduce their liability. Portfolio managers and leasing agents are now equipped with iPads in the field, which allows them to take pictures documenting property concerns and immediately email or post those images. The Madison Real Estate Group has also implemented an Email Notice Rider allowing them to serve tenants via email on the spot.
While other managers are still thumbing away on their smartphones, Madison Real Estate managers are conducting real time move out inspections by documenting any repairs needed with both pictures and tenant signatures. The iPad allows them to submit repair requests sooner, ensuring timely turnovers and minimizing lost rent.
"Putting iPads in the hands of our representatives enables them to give our tenants piece of mind around the clock," says Jacqueline Kimaz, vice president of The Madison Real Estate Group. "Everything is real time these days and our company should be ahead of the curve in order to better serve our clients." Kimaz also stated that the benefits of timely communication help the residents, as well as the property owners.
Life and safety problems can now be addressed right away, as these managers are now able to submit the work orders onsite, thus reducing liability. The iPads also have the potential to help reduce vacancies as agents can upload property photos and share slide shows to online rental sites immediately after rent ready inspections are complete.
Additionally, if a prospective resident doesn't like the unit being shown, the leasing agent can now give a real time demo of other properties in the owner's portfolio, saving them drive time – which, in a city like Los Angeles is worth its weight in gold. Time will no longer be wasted on sending prospective tenants paperwork and waiting on a deposit either. Leasing agreements and deposits can now be completed on location.
About The Madison Real Estate Group
The Madison Real Estate Group is an entrepreneurial and experienced full service multifamily and commercial real estate company with offices in Los Angeles, Las Vegas and Phoenix, that serves as a trusted advisor to financial institutions and private investors. We have built our reputation by offering innovative solutions to our clients property management needs, adding value to their portfolios, and consistently exceeding their expectations for service and performance.