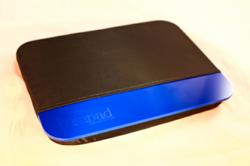 This product is a result of our passion to offer our customers a safer and healthier way to use their laptops and tablet PCs.
Grand Haven, MI (PRWEB) April 30, 2013
Students, professionals, gamers, and tens of millions of other people around the world who use a laptop for any purpose and duration, can now help protect themselves from Erythema ab igne (a.k.a. "Toasted Skin Syndrome") by purchasing the new patent-pending HARApad Heat Shield from laptop heat shield pioneer, HARApad LLC.
The affordable new HARApad Heat Shield, which is designed to simply add-on to any of HARApad LLC's patent-pending laptop heat protection products, blocks even more heat and also makes laptop use more comfortable -- which is welcome news for those who prefer to use their lap as a surface, or are obliged to do so because of a lack of available desk space in crowded coffee shops, at airports, while parked in their car, and so on.
Erythema ab igne (Toasted Skin Syndrome) is caused by extended exposure to thermal radiation emitted by laptops, heating pads, hot water bottles, space heaters and other electronic devices and sources. Over time, affected individuals can develop reticulated erythema, hyperpigmentation, scaling, telangiectasias, and in rare cases, it can lead to skin cancer.
"Five years ago, we were the first company in the world to introduce a laptop radiation shield," commented Mark Kramer, Co-CEO of HARApad, and one of three mechanical engineers who founded the company. "And now, we're just as proud to offer the first product ever that combines active laptop radiation shielding and active heat shielding in a single unit."
Added Mr. Kramer: "This product is a result of our passion to offer our customers a safer and healthier way to use their laptops and tablet PCs."
Health-conscious individuals who want to help protect themselves or someone they care about from Toasted Skin Syndrome, organizations who want to look after their members or employees, and retailers or wholesalers who are interested in offering an in-demand product from a pioneering company that is trusted by users worldwide, are all invited to learn more at http://www.harapad.com.
For media inquiries, contact Mark Kramer at 616-889-1633 or mark(at)harapad(dot)com.
About HARApad LLC
HARApad LLC is a revolutionary product, and the first laptop radiation protection shield of its kind to effectively reduce electromagnetic radiation (EMR) by up to 100%. HARApad has become the benchmark for laptop radiation protection. Founded by three mechanical engineers, HARApad is a direct result of years of research and development after a personal experience with cancer. EMR awareness is a primary part of HARApad's business goals. HARApad reached worldwide sales within two months of going public, and remains committed to keeping production and headquarters local to its birthplace, Grand Haven, Michigan. Learn more at harapad.com.