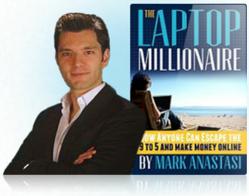 I am delighted to be once again sharing the stage with Mark Anastasi
(PRWEB) November 20, 2012
Author of the New York Times Bestseller, 'The Laptop Millionaire', Mark Anastasi, has taught hundreds of thousands of people, all around the world, how to build online businesses. He has now announced the dates for his 2012/2013 Laptop Millionaire World Summit World Tour, and webinar automation expert Steven Essa, as a key contributor.
The world tour kicked off in Australia with a two-day event in Melbourne last weekend, with Sydney and Brisbane events in successive weekends in November 2012. The tour then heads to North America in February and March 2013, an on to Europe. It will expand on the unique combination of personal development and online business strategies that have been integral to the success of Anastasi's 'The Laptop Millionaire' book, published by Wiley & Sons, with over 50,000 copies sold.
"I am delighted to be once again sharing the stage with Mark Anastasi" said Steven Essa. "His reputation for helping others to achieve online business success is well known, and my strategies for using automated webinars as part of the online marketing process are a perfect fit for those attending these events."
"Being an Aussie, I am particularly excited that the world tour kicks off in Australia" he explained. "Australians are know to be early adopters of new concepts and strategies, and we are increasingly becoming internationally acknowledged experts in many niches."
At the event, Mr Essa will explain how, by using his process for automating and marketing webinars, it is possible to generate ongoing passive income - regardless of your current skillset.
Also on stage will be Mr Essa's wife, Corinna, who will show how businesses can leverage their online footprint by the use of sophisticated, yet automated, social media strategies.
"During our free two day, information-packed summits, Steven and Corinna will demonstrate, live, on stage, how they make money online - you will never look at your laptop the same way again" said Mark Anastasi.
Details about the Laptop Millionaire Summit dates and locations, can be found at LaptopMillionaireWorldTour.com
About Steven Essa
Steven Essa grew up in working-class western Sydney, Australia. He and his sister were raised by hard-working parents, Assyrian immigrants, who had arrived in the country with no English, and few skills - but with a determination to forge a better life for their children.
An interesting journey later, and through grit and sheer determination, Steven is now one of the most highly regarded experts in webinar automation in the world. He consistently wins 'Best Speaker' awards at live, on-stage events, and his presentations have been enjoyed by thousands of people in countries all around the world..
Steven is known to be an ethical and professional online marketer whose area of specialty is user-friendly automated webinar systems. He creates strategies and tools that facilitate automated webinars becoming an integral part of a business sales funnel - and he teaches others how to incorporate them into their marketing plans. His expertise in this niche is unparalleled.
The next opportunity to hear Steven speak will be at the Laptop Millionaire Summit World Tour. Dates and locations can be found at LaptopMillionaireWorldTour.com