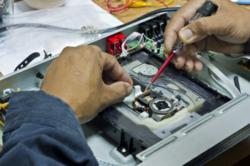 This intensive course includes HP, Compaq, Dell, Gateway and other laptop repair techniques.
San Francisco, California (PRWEB) November 27, 2012
Laptop repair can be costly to those that do not know how to work on these machines. The Laptop Repair Company has released a series of 12-hour laptop repair videos to help owners of laptops or budding technicians to learn how to make repairs.
This intensive course includes HP, Compaq, Dell, Gateway and other laptop repair techniques to help anyone repair a laptop fast or start a computer repair business.
A computer technician can earn an annual salary of $65,000 according to a salary resource online. The cost of fixing a laptop can be higher depending on the part of the country that a person lives.
Repair technicians living in major cities can charge as much as $100 per hour to fix problems after diagnosis.
The laptop repair videos released online by the Laptop Repair Company are offered to anyone with a desire to learn to fix these complex computers. From tear outs to component replacement, all of the important skills are taught through this new 12-hour training series.
One of the advantages to learning how to repair a laptop is the reduced costs involved. Wholesale sources to purchase components is one of the benefits that laptop repairmen and women can receive. Someone that is searching for a low cost way to upgrade a laptop could benefit from this training series online.
While computer technology is updated annually, the basic concepts of repairing laptops has not changed according to this new training course. A certified instructor walks men and women through an entire 12-hour training series to cover the most common types of issues that laptops can have.
Advanced repair techniques are part of this new online training to help a repair person to tackle problems that are not found in simple study guides or repair manuals. This new laptop repair course can be accessed entirely online and includes a complete money back guarantee.
About Laptop Repair Company
The Laptop Repair Company provides computer training and repair technique videos to help men and women learn the craft of PC repair. While universities and colleges charge thousands to learn this skill, the Laptop Repair Company offers its training for affordable prices online. This new company offers an entire two-year course in 12-hour streaming videos. The laptop techniques offered by this company work well for almost all major laptop brands in use worldwide. The Laptop Repair Company video training launched in 2012.